Shanghai and NY Diamond Bourses Sign Deal Aimed at Expanding Business
September 13, 17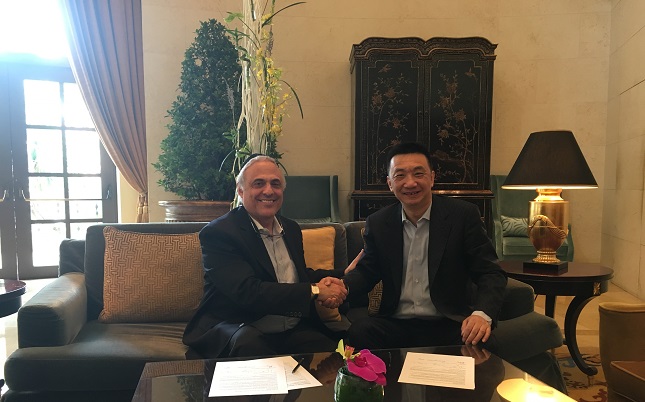 (IDEX Online) – The Shanghai Diamond Exchange (SDE) and the Diamond Dealers Club of New York (DDC) signed a Memorandum of Understanding (MoU) aimed at strengthening the bonds between the two organizations and creating new trading opportunities for their respective memberships.
The Memorandum was signed on September 11 following the World Federation of Diamond Bourses meeting held in Macau. The document was signed by SDE President Lin Qiang and DDC President Reuven Kaufman.
The parties agreed to work together to create new business contacts for their members by creating new trading opportunities and sharing information on the latest developments in their respective markets. The SDE and DDC plan to establish trading weeks in both bourses, with an inaugural visit by a delegation of the SDE to the DDC for the first ever China Diamond Week at the DDC, according to a statement.
Lin Qiang said, "We are proud to formalize our close ties with the DDC under the capable leadership of Reuven Kaufman. In this challenging market, their organization has shown strong growth. We welcome the opening of their new trading floor which will be an attractive venue for our members, and we are sure WFDB organizations from all over the world will capitalize on this opportunity to create new ways to work with the trade in New York."
Kaufman said "We sincerely appreciate the friendship of the SDE throughout the years and look forward to learning from each other, and most importantly, doing more business together. It will be an honor to work alongside a statesman of Lin Qiang's caliber. We are excited in the coming months to open up our new and state of the art trading floor to delegations from China and all over the world. We are encouraged by their renewed interest and recognition of the vitality of the New York diamond market and look forward to welcoming them soon."