VOD Dubai International Jewellery Show Opens
November 15, 17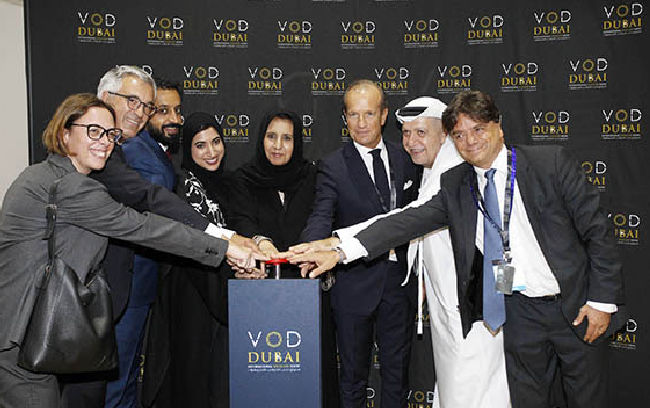 (IDEX Online) – VOD Dubai International Jewelry Show, the region's only B2B and B2B jewelry show, opens its doors today, running until November 18 at the Dubai World Trade Centre (DWTC).
Organized by the DWTC and the Italian Exhibition Group (IEG), the consolidated VOD Dubai International Jewellery Show incorporates the emirate's two leading jewelry sector showcases – the trade-centric VICENZAORO Dubai and the consumer-facing Dubai International Jewellery Week – into a single, industry-wide event set to attract more than 500 local, international and regional brands launching new product lines, collections and jewelry innovations to a trade and consumer audience, the organizers said in a statement.
In a move aimed at optimizing access for both trade and consumer visitors and buyers, as well as on-site business and sales potential for exhibitors, the event format for VOD Dubai International Jewellery Show will be divided into four, easily identifiable communities: Global Brands that are celebrated at an international level for their experience in setting trends in high fashion; Fine Jewelry for those artisans who are experts in the trade of jewelry of the finest quality; Gemstones & Diamonds dedicated to businesses selling certified precious stones; and Packaging & Supply, which will feature experts in packaging and visual merchandising, together with businesses specializing in machinery, technologies and the development of new solutions for jewelry production.
Top show delegates embarked on an extensive three-month road show targeting leading buyers from key markets across the GCC and Arabian Gulf, as well as Lebanon, Jordan, Egypt, India, Russia and Sri Lanka, and the show will welcome more than 400 premium and hosted buyers over the four-day event.
A key highlight for VOD Dubai International Jewellery Show is TRENDVISION Jewellery + Forecasting – the independent think tank behind the TRENDVISION 2019+ coffee table book that uncovers key trends for upcoming seasons by monitoring historical and social changes and analyzing emerging trends and phenomena. Taking place in the Trend Conference Room, Hall 6, luxury trends forecaster Paola De Luca will be holding a seminar exclusively for trade visitors entitled 'What DO Consumers Want?', which focuses on the how social changes including the rise of the digital influencer and the dawn of the 'selfie era' impact on luxury living.
This season, VOD Dubai International Jewellery Show is teaming up with Arab Fashion Week, uniting the best of fashion and jewelry. Another key focus area will be the 'Dubai by Italy Jewels' exhibition. Curated by Dr Maria Loretta De Toni and Dr Piero Speggiorin, the aim of the exhibition is to represent a bridge between the past and the present while inciting a message of peace among worldwide cultures in the view of Expo 2020. Comprising eight different showcases and presenting 30 exclusive jewelry masterpieces from different designers of Italy, each brand will present one of their jewels that represents the spirit of Dubai, or other neighboring cultures such as Lebanon, Algeria and Saudi Arabia.
Ahead of the opening of the event, Corrado Facco, Managing Director of Italian Exhibition Group and Vice President of DV Global Link, commented: "VOD Dubai International Jewellery Show is a unique and innovative event that has been conceived to meet the needs of the all key members of the dynamic jewelry and gem industry. Be it uncovering new innovations, sharing best practices, developing new partnerships or learning about the latest trends in the luxury sector, the new consolidated format opens many doors for us to numerous global countries, some of which we have never done business with before, proving instrumental in further driving the success of the global jewelry industry. Thanks to the skills of our top international exhibition providers, IEG and DWTC, as well as the collaboration of our partners, we have built an incredible platform where the most prestigious players in the business can come together to interact and do business."
VOD Dubai International Jewellery Show has the support of a number of leading worldwide organizations including the Dubai Gold & Jewellery Group (DGJG), the Dubai Multi Commodities Centre (DMCC), the Gem Jewellery Export Promotion Council (GJEPC) and ITA – the Italian Trade Agency.
VOD Dubai International Jewellery Show is open to both retail and trade visitors.