U.S. Jewelry Sales Post Solid Rise in January
March 21, 18
(IDEX Online) – Sales of fine jewelry and fine watches rose by 6.3 percent in the U.S. market in January 2018, when compared to the same month a year ago, as the graph below illustrates.
Sales were an estimated $8.5 billion, according to preliminary data from the U.S. Commerce Department following the holiday season but ahead of Valentine's Day.
The sales rise in January was lower than that recorded for the three previous months, but that is only to be expected since that was the holiday season period.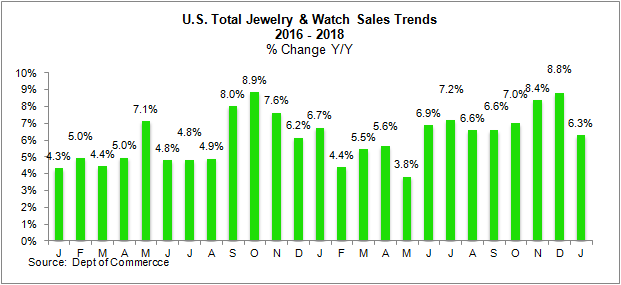 Specialty Jewelers Market Powerful in December
Specialty jewelers in the American market took less market share from multi-line retailers who also sell jewelry, with sales of $2.1 billion.
Specialty jewelers posted a 10.9 percent sales rise in January from the same month the year before, however other multi-line merchants who sell jewelry generated sales of $6.3 billion compared with $4.7 billion in the year-earlier month, as the graph below illustrates.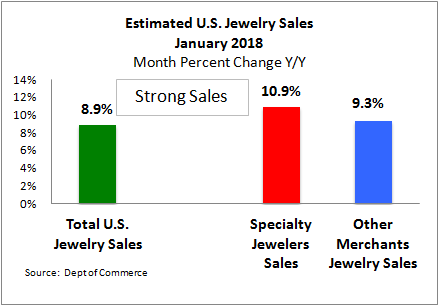 The graph below summarizes sales trends for specialty jewelers since the beginning of 2017. For American jewelers, grew strongly throughout most of 2017, but fell in December, which could be attributed to shoppers doing their holiday season shopping at a range of stores rather than at specialty jewelry stores. In January, there was a powerful rise of 10.9%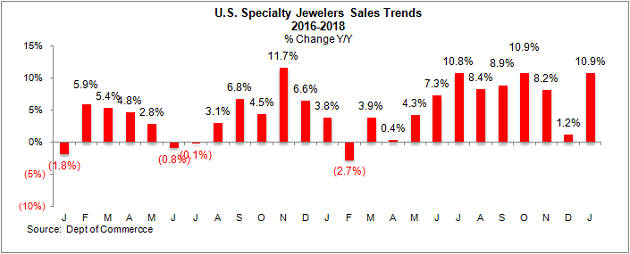 Specialty Jewelers Winning Market Share
While specialty jewelers had been generally doing well against multi-line merchants throughout most of last year, and that returned to be the case in January as specialty jewelers recorded a rise compared with multi-line merchants.
The graph below summarizes the disparity between specialty jewelers' sales gains and jewelry sales trends for all other retail merchants who sell jewelry. Specialty jewelers' sales are represented by the red bars; multi-line retailers' jewelry sales are shown on the blue bars.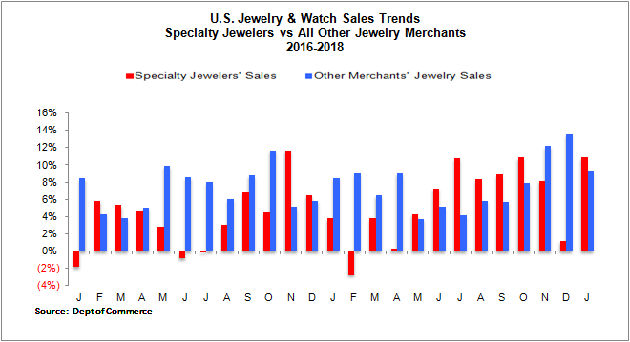 Fine Watch Sales Stronger Than Fine Jewelry Sales
By category, fine jewelry sales were up around 8.8 percent in January, while fine watch sales rose by 10.0 percent. January was the sixth consecutive month in which watch sales were higher than jewelry sales.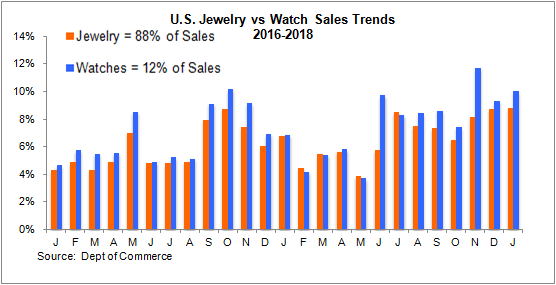 Consumer Demand Rises in January
Total retail sales of all goods, except autos, posted a 5.3% sales gain in January, after a 3.7 percent increase in December. All jewelry and watch sales saw a higher increase – up 6.3 percent. The graph below illustrates sales trends for all retail sales (green bars) versus sales gains for jewelry (red bars).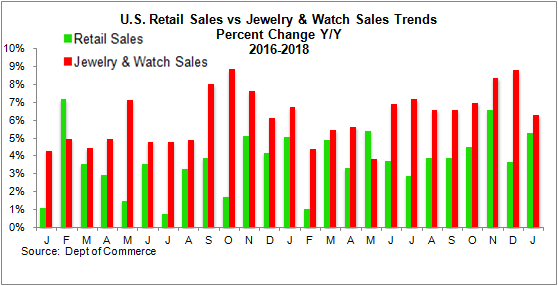 Strong 2017 Jewelry Sales Results
American jewelry consumers, collectively, were clearly in a good mood in 2017 with robust sales reported throughout the year perhaps reflecting the healthy state of the U.S. economy.
Although we had been expecting jewelry sales gains in the U.S. market for 2017 of at least four percent, year-over-year, the actual average figure for the year was considerably higher at 6.9%.
That appears to continue to be the case as 2018 started out. The following months will tell us if this trend is continuing.