ALROSA Opens Office in Bharat Diamond Bourse, Aims to Strengthen Ties With India
April 23, 18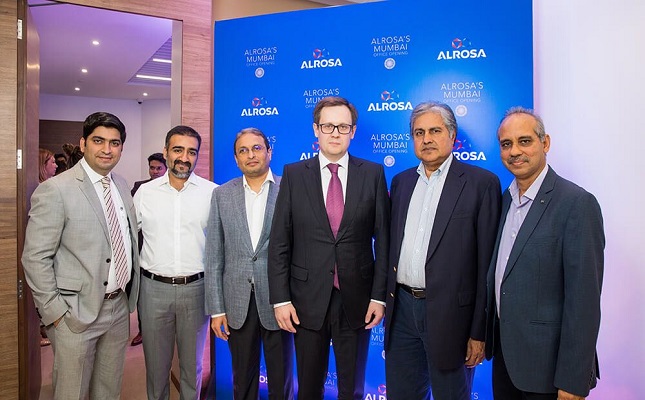 (IDEX Online) – ALROSA has opened a representative office in the Bharat Diamond Bourse in Mumbai.
The opening was attended by Russel Mehta, Advisor to the Chairman and Member of the Board of the Gem & Jewellery Export Promotion Council of India (GJEPC), Anoop Mehta, the President of the Bharat Diamond Bourse (BDB), and Mehul Shah, Vice-President of the Bharat Diamond Bourse.
ALROSA said that it has a long history of trade with India and is interested in strengthening this cooperation.
In 2017, ALROSA directly supplied to India rough diamonds worth almost $700 million. In the new contract period (2018-2020), ALROSA has signed 15 long-term contracts with diamond manufacturing companies in India – 14 for gem-quality diamonds and one for industrial goods. ALROSA currently works with more than 100 Indian companies that buy diamonds from the spot market or auctions.
ALROSA's representative office won't conduct any trading activity and will concentrate on strengthening ties with the Indian market. Jim Vimadalal, the Mumbai Office Director, will work on promoting the ALROSA brand in the Indian market, suggesting new clients and solving technical issues with existing clients. He will also be responsible for interaction with industry organizations, including discussing opportunities for business development, preventing the market from synthetic stones, studying consumer demand trends.
"India plays a huge role in the world polishing business, it is also a prospective market for diamond jewelry consumption," said Evgeny Agureev, Executive Committee member, and Director of the United Selling Organization of ALROSA. "We see the Indian diamond sector growing, and welcome the governmental initiatives aimed at creating a more comfortable and stable working environment for the industry. Of course, ALROSA is interested in expanding its presence on the Indian market and in closer cooperation with industry bodies, both for trade and the entire industry development."