Diamond Industry 'Lays Foundation For Kimberley Process 2.0' At Intersessional
June 24, 18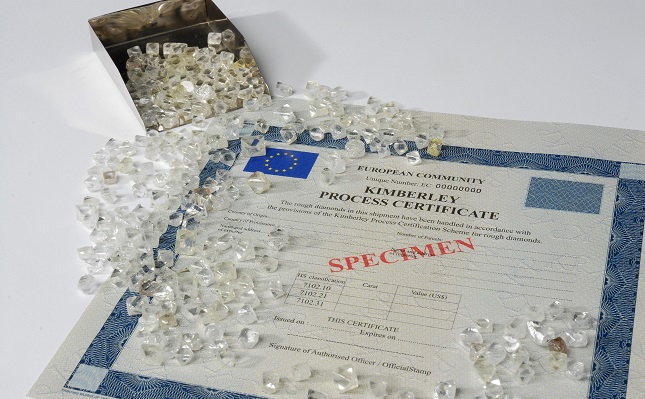 (IDEX Online) – From June 19 to 22, Antwerp was the host city for the Kimberley Process (KP) Intersessional meeting. This year, the European Union occupied the KP Chair.
The global diamond community - consisting of diamond-producing and trading countries, the diamond industry and civil society - gathered together to assess the current state of affairs and look forward to the future of the KP. Antwerp has always played a leading role in promoting transparency in the diamond trade, was present at the birth of the KP and participated in the creation of the World Diamond Council (WDC), which represents the interests of the global diamond industry within the KP.

"This year is important for the KP, which is at a crucial stage of its development," according to a statement. "Under the leadership of the European Union, the KP is discussing an ambitious reform agenda with three priorities: a deepening of the KP, including the reinforcement of the system of controls and the transformation of KP recommendations into minimum requirements; an expansion of the KP by means of broadening the definition of conflict diamonds; and professionalization of the KP by, among others, the establishment of a permanent KP secretariat.

"During the KP Intersessional, participants and observers engaged in a thorough discussion of the reform agenda in order to lay the foundation for decisions that will be taken during the KP Plenary meeting at the end of the year. Taking place in Brussels this coming November, it is hoped that it will be the start of the KP 2.0, fit for purpose to contemporary challenges."

"However, consumer demands have changed over the years, and the KP needs to adapt accordingly. Today's consumers place great importance on the socio-economic value of diamonds. It is therefore very important that the KP broadens its mandate. During this KP Intersessional, civil society as well as the global diamond industry - serving as observers inside the KP - declared themselves ready for the broadening of the definition of conflict diamonds.