U.S. Jewelry And Watch Sales Up In June, Revised Figures Cut Size Of Market By at Least 15%
August 29, 18
(IDEX Online) – Sales of fine jewelry and fine watches rose by 8.7 percent in the U.S. market in June, when compared to the same month a year ago, as the graph below illustrates.
However, the big news story was that the US Bureau of Economic Analysis (BEA) revised its figures for sales going back 10 years to 2008. That was the year of the great financial crisis, with the market taking several years to recover as a deep recession bit into sales in the United States which suffered a big rise in unemployment and a strong decline in consumer spending.
The BEA's revised figures reduced the size of the US jewelry and watch market overall by at least 15 percent, with some estimates suggesting that it may have been deeper still.
However, it seems clear that the pattern of American jewelry sales remained upwards over the past decade despite the BEA's downward revision.
IDEX figures based on BEA figures before the revision for estimated jewelry and watch sales in 2017 were almost $92 billion, with the figures for 2016 showing a total of $88 billion.
But the latest update puts the figure at close to $77 billion for 2017, a drop of 16%. Nonetheless, this revised figure was still a rise of 5% on the previous year which was revised down to just over $73 billion.
The BEA periodically revises its data according to updated statistics from the U.S. Census Bureau (CB), though this revision was particularly deep and was based on updated data from the CB's Annual Retail Trade Survey for 2016 and for previous years.
As for the June figures, sales were an estimated $6.0 billion, according to preliminary data from the U.S. Commerce Department.

Specialty Jewelers Market Strong in June
Specialty jewelers in the American market in June posted sales of around $2.6 billion.
Specialty jewelers posted a 13.3 percent sales rise in June from the same month the year before, while total American jewelry sales posted an 8.7 percent increase showing the strength of the specialty jewelry sector as the graph below illustrates.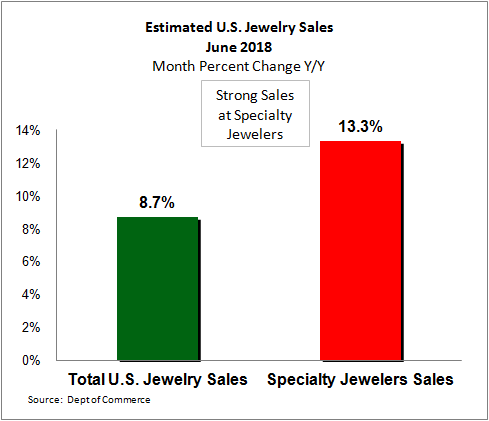 The graph below summarizes sales trends for specialty jewelers since the beginning of 2016. For American jewelers, sales grew strongly throughout most of 2017, and this year has continued powerfully for them with increases in excess of 10% in the first six months of 2018.

Specialty Jewelers Winning Market Share
Specialty jewelers did well against multi-line merchants throughout most of last year, and that has returned to be the case this year as specialty jewelers recorded a rise compared with a smaller increase at multi-line merchants.
The graph below summarizes the disparity between specialty jewelers' sales gains and jewelry sales trends for all other retail merchants who sell jewelry. Specialty jewelers' sales are represented by the red bars; multi-line retailers' jewelry sales are shown by the green bars.

2018 Jewelry Sales Continue Robust Pattern
American jewelry consumers continued to provide robust sales figures in June, according to the figures for the first six months of this year.
Although sales of jewelry and watches were an estimated $6.0 billion in June compared to $7.6 billion in May, they were nonetheless comfortably in line with the figures shown for the rest of this year so far.
Outlook
With the American economy continuing to improve, it's reasonable to assume that the figures will keep showing a solid performance in the coming months.
US stock markets continue to power ahead, creating new records, despite concerns over trade wars due to tit-for-tat tariffs and legal and political problems affecting the Trump administration.
Indeed, the National Retail Federation has revised its retail sales growth prediction for 2018 upwards to at least 4.5 percent from a 3.8-4.4 percent gain previously.
The NRF said that tax reform and positive economic conditions were the main factors behind its forecast.
NRF President and CEO Matthew Shay said: "Higher wages, gains in disposable income, a strong job market and record-high household net worth have all set the stage for very robust growth in the nation's consumer-driven economy."