GJEPC Holds First India Silver Jewellery Buyer-Seller Show In New Delhi
October 09, 18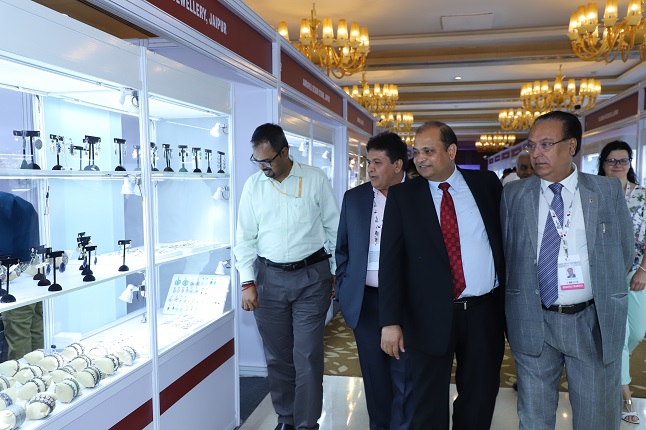 (IDEX Online) – The Gem & Jewellery Export Promotion Council (GJEPC) said it held its first India Silver Jewellery Buyer Seller Meet (BSM) from October 3-5 in New Delhi.
The GJEPC reported an encouraging show, with 27 leading Indian silver jewelry manufacturers displaying a wide range of silver jewelry products to 49 international buyers from 16 countries.
Exhibitors included silver jewelry wholesalers, retailers, traders and chain stores from, among other countries, Algeria, Australia, Egypt, Ireland, Jordan, UAE, UK, Uzbekistan, Kazakhstan, Kenya, Lebanon, Oman, Russia, Singapore, Sri Lanka, Tanzania.
Pramod Kumar Agrawal, Chairman, GJEPC (pictured above, center) said, "There is a growing demand for silver jewelry or alternative metal globally. India can capitalize on this as it has the capability and skills to produce quality silver jewelry matching international standards. The focus of the sector is to garner foreign exchange and increase value addition thereby generating employment in the sector.
"Silver jewelry product from India needs adequate exposure in the world market and thus steps like focused BSMs will help grow the demand for the products from India amongst consuming nations. We would also like to organize such BSMs in overseas markets by inviting potential buyers, thus giving maximum exposure to Indian silver jewelry manufacturers across the world. We are hopeful that the government would support this sector with trade friendly policies and thus help it to play a bigger role globally."
The GJEPC said that silver jewelry exports from India totaled $3.38 billion in 2017, placing India among the top five leading silver jewelry exporters in the world. 
"The Silver Jewellery BSM will provide an opportunity tofor decision makers to meet with the participating manufacturers for sourcing silver jewelry, understand supply chain, business practices and culture, identify and develop new sourcing opportunities and substantially increase direct exports of silver jewelry to the regions," said Mr. Dilip Shah, Convener, International Exhibitions, GJEPC.