Japan's New Art Cima Ltd. implements Sarine Diamond Journey
April 16, 19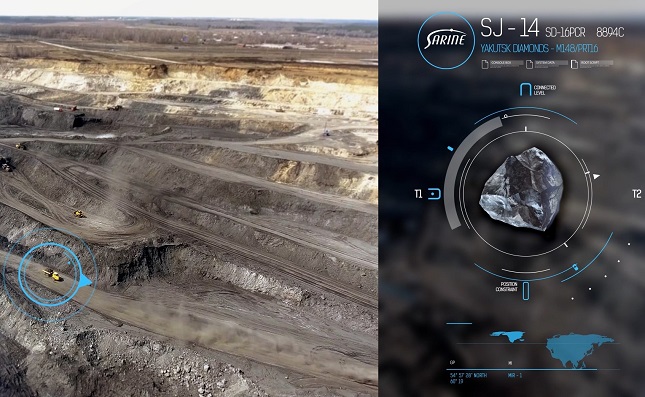 Sarine Technologies Ltd announced that New Art Cima Ltd. is the first retail chain in Japan to implement the Sarine Diamond Journey solution as a center piece of its new customer experience.
The Sarine Diamond Journey solution vividly showcases a diamond's transformation from its rough origin to its polished form. The solution includes a three-dimensional model of the original rough stone that a customer can see and touch, and a digital report that presents the amazing transformation to the final polished gem it has become. The Sarine Diamond Journey enables retailers to differentiate and enhance the emotional diamond jewelry purchase verified by a trusted third-party laboratory. Using Sarine's advanced innovative technologies, the Sarine Diamond Journey is the only technologically verified, data-based provenance solution in the market that presents the end to end remarkable process, from rough diamond design and manufacturing process to the final polish diamond in a physical as well as a digitally interactive format.
New Art Cima Ltd., the first retailer to adopt the Sarine Light grading reports in 2013, has grown to be the leading bridal diamond jewelry retailer in Japan. It is now pioneering the implementation in Japan of the Sarine Diamond Journey solution.
Mr. Tetsuya Shiraishi, Vice President of New Art Cima Ltd., said, "We believe that Sarine's Diamond Journey reports will provide our customers with an enhanced shopping experience and add value to their purchase. The physical 3D model of the original stone along with the digital presentation of the diamond designing and manufacturing process will excite our customers and instill confidence in purchasing the diamond of their choice."
David Block, CEO of Sarine, commented, "We are honored that New Art Cima Ltd. has chosen our provenance product, and trust that the Sarine Diamond Journey will facilitate further growth and success for New Art Cima, as with the Sarine Light Performance reports." Block added, "Each diamond is an exceptional jewel which has its own individual story to tell. We are excited to be able to emphasize the distinction of diamonds by providing the verified story behind each diamond's unique journey, providing wonder and value far beyond the traditional 4C measurements."