RJC holds virtual AGM, brings in new board and committee members
May 20, 19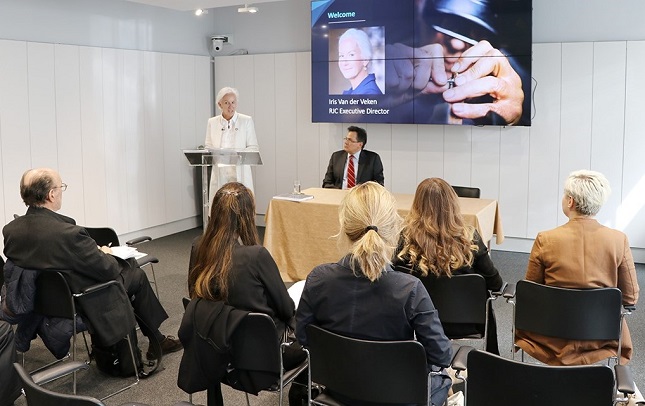 The Responsible Jewellery Council (RJC) held its first - virtual - annual general meeting (AGM) this week, appointing a series of new board members. The event was broadcasted to all RJC member companies globally from Chatham House in London on Tuesday 14 May 2019.
During the meeting, RJC Chair David Bouffard announced a series of appointments to the RJC board of directors and its standards, assurance and communications committees.
The newly appointed board members will represent their respective forum in the jewelry supply chain, from mine to retail. The new appointments are:
James Pounds from Dominion Diamond Corporation and Nelson Zarzosa from Minera Sotrami S.A who will be representing the diamond, gold and/or platinum group metals producer forum;
Michael Steinmetz from Leo Schachter Diamonds LLC will represent the diamond traders, cutters and polishers forum;
Gregory Magid from Kusasa Refining Pty Ltd will represent the gold, platinum metals traders, refiners and/or hedgers forum;
Patrick Addor from Jaeger-LeCoultre will be representing the jewelry manufacturer and wholesaler forum;
Bernard Malek from Cartier will represent the jewelry retailer forum;
Rajesh Neelakanta from BV Chinai & Co. (India) Pvt. Ltd will represent the service industries forum;
Bernadette Pinet from Union Francaise de la BJOP will be representing the trade association forum;
The new Board members will join current Board members and work closely with the RJC's Executive Committee and management team as the organization continues to position its recently launched 2019 Code of Practices and drive continuous improvement in responsible business practices across the jewelry supply chain.
Additions to RJC's Standards Committee includes industry representation from Alrosa Group, De Beers Group, Bonas & Co, Lazare Kaplan International Inc., Argor-Heraeus SA, Donze-Baume, Pomellato S.p.A, Cartier, Fair Trade Jewellery Company, HRD Antwerp, IGI India Pvt Ltd, Antwerp World Diamond Centre and The International Diamond Manufacturers Association (IDMA).
Non-industry appointments to the Standards Committee includes representation from BSR, UL, Swiss Better Gold Association, Levin Sources, Canadian Diamond Code of Conduct, the International Coloured Gemstone Association (ICA), the Responsible Minerals Initiative (RMI), the Jewelers Vigilance Committee (JVC), Alliance for Responsible Mining (ARM) and the Diamond Development Initiative (DDI).