CIBJO: Harmonized gemological standards to promote fair jewelry trade
May 27, 19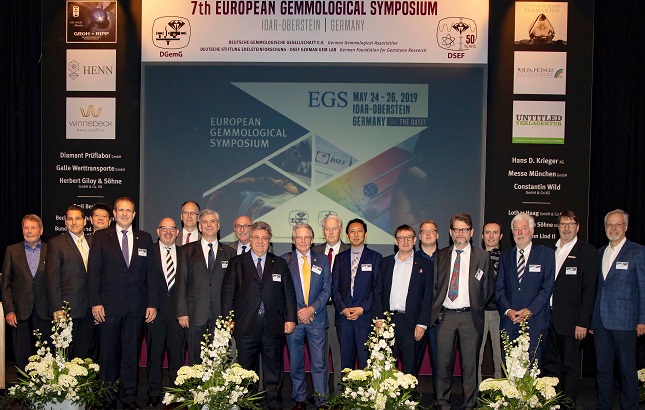 In Photo: German Gemmological Association President Thomas Lind and CIBJO President Gaetano Cavalieri flanked by speakers and guests at the 7th European Gemmological Symposium in Idar-Oberstein, Germany. Seen in the photograph (from left) are: Hans Juergen Henn, Dr. Robert Chodelka, Prof. Dr. Andy H. Shen, Frank Fruehauf, Dr. Claudio Milisenda, Branko Deljanin, Dr. Thomas Lind, Prof. Dr. Henry Haenni, Dr. Gaetano Cavalieri, Kenneth Scarratt, Dr. James Shigley, Dr. Ahmadjan Abduriyim, Dr. Michael Krzemnicki, Tom Stephan, Prof. Dr. Emmanuel Fritsch, Dr. Federico Pezzotta, Joerg Schlossmacher, Dr. Ulrich Henn and Dr. Tobias Haeger.
Addressing the opening ceremony of the 7th European Gemmological Symposium in Idar-Oberstein, Germany, on May 25, CIBJO President Gaetano Cavalieri called on the world's gemological community to participate through CIBJO in the creation of harmonized sets of grading standards, practices and nomenclature, as part of an international effort to ensure the integrity of the jewelry market and to maintain consumer confidence.

"We are not a commercial organization, but our mission is to promote a business environment in which commercial organizations can optimise their effectiveness and revenues," he stated. "And to do that over the long term, we believe it is essential that our working environment is responsible, fair and ethical. If this is not the case, in a luxury product industry like ours the viability of our business will be threatened and we will run the risk of losing consumer confidence, which in this type of market is unthinkable."
"To create a proper work environment, we need to need to be fully transparent in the way we operate our businesses and about what we sell, and, when that environment is international, we need to be sure that our counterparts always understand what we are saying," Dr. Cavalieri noted. "This makes the harmonization of standards and nomenclature a critical necessity. When a common business language is in place, and its rules and terms are publicly available, then we have the necessary elements to work together, to trust one another and to properly serve our consumers."
Keyword