Gujarati newspapers report leading Indian diamond manufacturer investigated for under-valuing rough imports
May 29, 19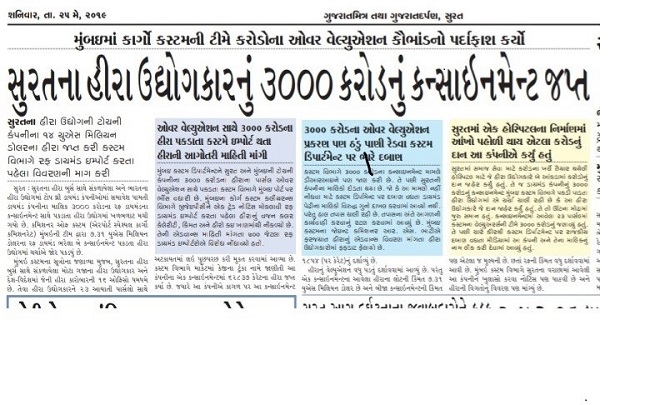 The Gujarati newspapers Gujarat Mitra a
nd Gujarat Darpan both published news items reporting that the Mumbai Cargo Customs authorities had stopped a shipment of rough diamonds of one India's leading diamond manufacturer that was suspected to be undervalued. The Mumbai Cargo Customs authorities investigated the shipment to assess its value.
According to the articles published on May 25th, initially blocked two parcels valued at $14 million from clearance. In total, the shipment counted 23 parcels valued at Rs 3000 crore, which is $429 (four hundred and twenty nine) million. All the parcels were held for investigation.
The - unnamed - company reportedly operates 6 offices worldwide a
nd is known as KG in Surat. Mr. R S Bhatti, a customs officer with the Mumbai Cargo Customs authorities, reportedly asked this company for clarifications.
The newspapers wrote that both Mumbai's a
nd Surat's Cargo Customs authorities are on high alert for new shipments of diamonds. The papers said that the Gem & Jewellery Export Promotion Council (GJEPC), the national umbrella organization of India's gem a
nd jewelry industry and trade, had been notified that new regulations that require every company importing rough diamonds to declare in advance of the details of where the goods were mined i.e. the origin, as well as the exact weight, color, and price of the diamonds. Reportedly, following these new regulations, some 700 Indian diamond companies have lodged a complaint over these measures to the GJEPC.
Sources in India confirmed that the local industry exerted tremendous pressure on the local authorities and the government to keep this under the radar. A First Investigation Report (FIR) has not yet been filed against the owner of the said company. The firm is reported to be one of the largest in Surat and Mumbai. It, among others, built and opened a hospital in Surat.