Marange villagers unhappy over Anjin return at Chiadzwa
June 12, 19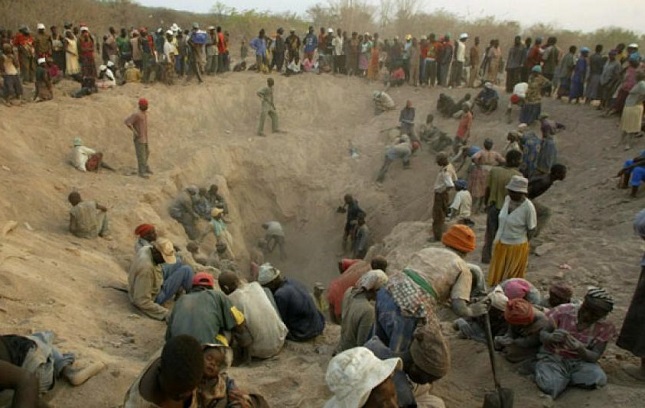 Marange villagers have expressed unhappiness after military backed Anjin Investments, that left a trail of destruction and empty promises resurfaced to start operations under unclear circumstances, various media sources in Zimbabwe reported .
Anjin Investments was part of the multi company regime which commenced formal diamond mining at Chiadzwa after the discovery of the precious mineral. Its shareholders are Anhui Foreign Economic Construction Company Ltd of China (Afecc) which also owns local three star hotel Golden Peacock Villa and Matt Bronze, an investment vehicle owned by the Zimbabwe military.
Community leaders say they have engaged the mining company over environmental compliance but its management has said they are operating on an explorative basis in partnership with Zimbabwe Consolidated Diamond Company (ZCDC).
Marange Development Trust chairman Malvern Mudiwa said this development does not augur well with villagers who feel short changed by mining companies extracting diamonds in their backyards. Mudiwa said they have resorted to seeking non judicial redress on sticking issues of Environmental Impact Assessment (EIA), rampant pollution and indiscriminate human right abuses committed through complicit state agents. Audited financial statements for both Anjin and ZCDC remain elusive documents which liaison officers at the local mining offices cannot avail to the community monitors said Mudiwa.
"The return of Anjin is a mystery and that has resurfaced complaints from the community over the dust pollution and as a community we are worried why they are operating without due processes of watering the gravel road. Community members are very angry and we were even considering mobilizing to block the roads to stop the dump trucks from using the roads. However as a trust we thought that it was better to engage the company over these issues but they said they were doing exploration on behalf of ZCDC because they exhausted all gems in their original concession and when we asked for the EIA they could not avail the document," said Mudiwa.
Mudiwa said villagers are unhappy and seek redress over use of excessive force by ZCDC security who are unleashing dogs on villagers and state agents' indiscriminate rounding up of villagers. He said such rampant abuse of human rights was an affront to their human dignity and an infringement of constitutionally guaranteed freedoms of association and assembly. "These are not emerging issues but unresolved problems which have be brought by diamond mining to the local community and we are not going to stop demanding accountability from the mining companies. ZCDC is letting dogs loose on people at an alarming rate and we are very much concerned about this and if they can't stop this as communities we will mobilize ourselves to stop this. Another thing is the indiscriminate rounding up of local villagers by state security agents as suspected illegal panners, while we acknowledge that they are illegal panners in the area but such indiscriminate arrests is bad because we have the right to associate and assemble as enshrined in the constitution," said Mudiwa.
Mudiwa is part of community monitors and para legal trained to monitor, track and demand accountability from mining companies by Zimbabwe Environmental Law Association (ZELA) an organization championing environmental justice. ZELA legal officer Darlington Chidarara said community members are rightly perturbed as there are outstanding issues on relocations of communities by the mining company.