Graff Diamonds Purchases 20.7-Carat Yellow Firebird from Alrosa
December 24, 19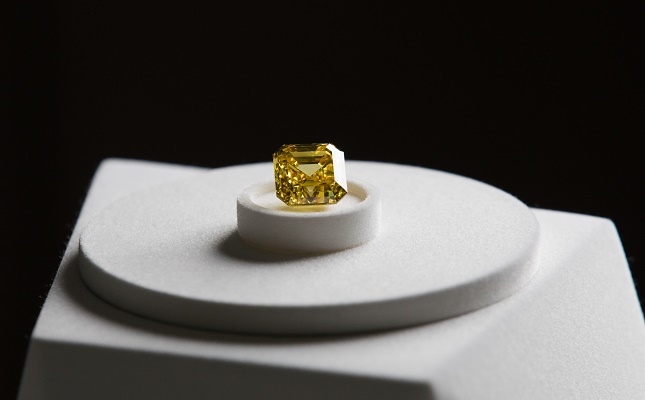 (IDEX Online) - Graff Diamonds has acquired the 20.7-carat Firebird diamond directly from Alrosa. While no price has been disclosed, the sale is apparently one of the highest prices per carat for such a stone in recent years.
The GIA graded the Asscher-cut diamond as Fancy Vivid Yellow / VS1 with excellent polish and symmetry. "It is extremely rare and very special in the world of diamonds to see [a] unique yellow diamond like this," said John King, GIA chief quality officer.
It was cut from "Stravinsky," a 34.17-carat rough diamond that was discovered at the Ebelyakh mine in Yakutia in 2017. That stone was one of the largest rough diamonds of such color and quality ever extracted in Russia.
The Firebird diamond is a part of "The Spectacle" unique diamonds collection, which is dedicated to the Russian ballet. The other named diamond is "Spirit of the Rose," a 14.8-carat fancy vivid purple-pink stone. The third diamond in the collection is still being cut and polished.