IDEX REAL PRICES: What exactly has happened since the start of March 2020?
March 25, 20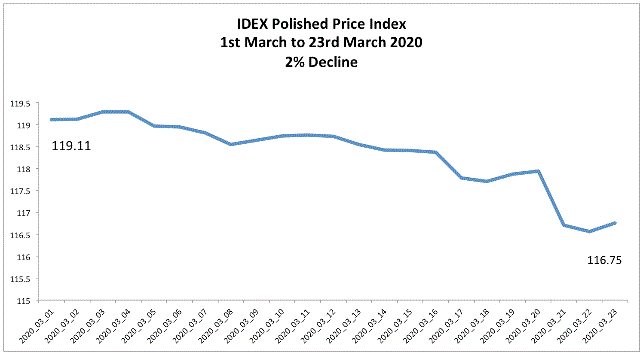 The overall price of polished diamonds has dropped two per cent since 1 March, according to the IDEX Diamond Index.
The most dramatic downward movement came last Thursday (20 March) when Indian exports were halted and the reality of coronavirus lockdowns worldwide hit home.
The market-driven IDEX Diamond Index for stones of all sizes shows prices levelling slightly on Sunday and Monday (22/23 March).
The steepest drops in prices, based on trading network data for 1 to 23 March, were among 0.5 carat stones, which were down four per cent. After a steady decline throughout the month they fell sharply on 19 March.
IDEX provides members with Real Time Prices (see example above) that are updated every hour.
Search and view average asking prices for all available categories of polished diamonds derived from inventories estimated at more than $5 billion.
To see the full IDEX Diamond Index report, with more graphs and information, IDEX members please click here.