Alrosa follows De Beers and Slashes 2020 Production
May 25, 20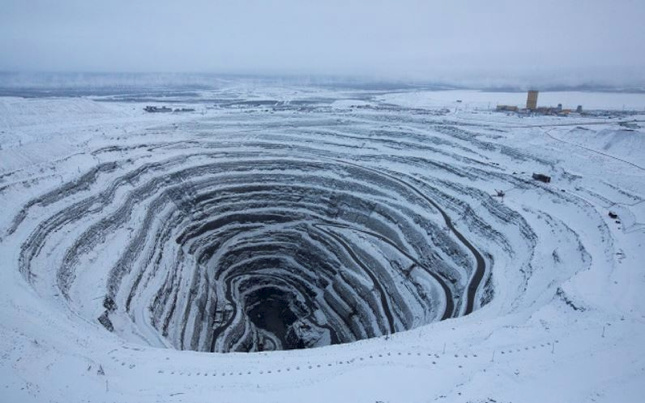 (IDEX Online) - Alrosa has followed De Beers' example by announcing a significant cut to expected production this year, in response to COVID-19.
The Russian state-owned miner's has revised down its 2020 forecast by as much as 17.6 per cent, from 34m carats to between 28m and 31m.
Last month De Beers said it would reduce production this year from between 32m and 34m carats to between 25m and 27m carats.
Between them, the two companies produce just over half of the world's diamonds.
Alrosa said it was temporarily shutting down some of its biggest mines to prevent a build-up of unwanted diamonds.
It has shifted its position after indicating last month that it still planned to meet its full-year production target for 2020 of 34.3m carats.
Alrosa's rough and polished sales slumped to $15.6m in April, down from $405m in January, before the impact of coronavirus.
The company has suspended operations at Aikhal (pictured), one of the world's largest diamond mines, and at the newly-opened Zarya pipe.
It also plans to cease commercial production at the Verkhne-Munskoye deposit, another of the world's largest mines, from early June until October. The three mines produce over 4m carats annually between them.
"Production cuts are expected to come at the expense of operations that have weaker margins due to lower diamond quality and price," the company said in a statement.
"The coronavirus pandemic and steps taken to fend it off have had their toll on the demand for diamond jewellery, which saw strong growth earlier in the year.
"Temporary shutdown of such production sites will help avoid build-up of stocks of diamonds least sought after in the market."