Something New... $6,000 Diamond Face Masks for Bride and Groom
July 12, 20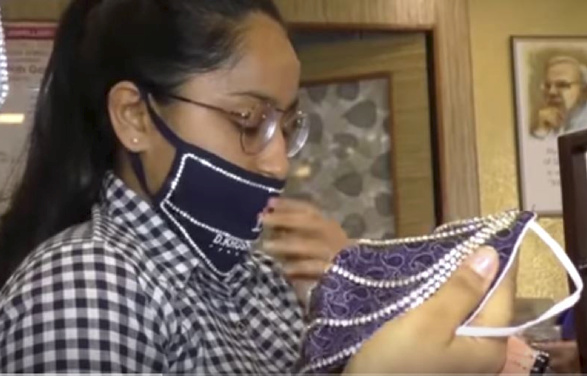 (IDEX Online) - Diamond-studded face masks are becoming the latest fashion craze in Covid-hit India.
They're popular with wedding couples, who will pay up to $6,000 for a washable N95 mask encrusted with real diamonds, according to Indian media reports. Masks with lab-grown diamonds start at around $800.
Lockdown means the number of guests is limited, so there's more money available to add some coronavirus-inspired sparkle, and the novelty factor is a creative way for jewelers to create extra demand in a depressed market.
Manufacturers say it's been tricky to stud the diamonds onto fabric without damaging it, but after some trial and error they have a workable method.
Dipak Choksi, owner of D Khushaldas Jewellers, in Surat, told Times of India: "A few customers wanted something unique for weddings that took place last month. We designed masks for both the bide and groom with hanging diamond strips and the borders studded with diamonds."
Top-of-the-range masks can be studded with as many as 400 individual diamonds.
Pic courtesy YouTube