Gay-Friendly Jeweler Ditches the word "Bridal"
February 23, 21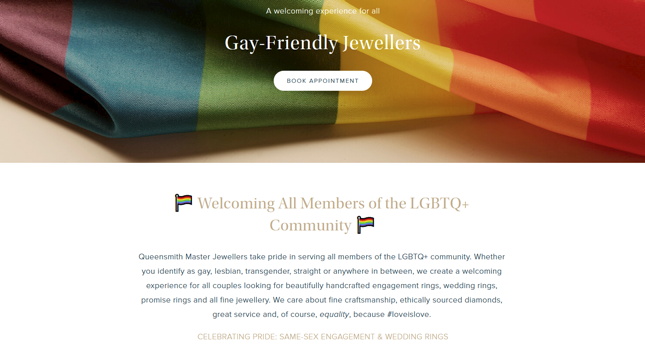 (IDEX Online) - A Hatton Garden jeweler has ditched the term "bridal" from all its literature.
It also says it will no longer uses the word "her" when referring to ring sizes.
Queensmith Master Jewellers, in the heart of London's traditional diamond area, describes itself as "Gay-Friendly" on its website.
It says at least five per cent of its customers are from same-sex couples and says it is moving towards a more gender-neutral approach to sales.
"We moved away from the term 'bridal' and made a conscious decision not to write gender specific copy in our branding and advertising," brand director Sam Nobles told the Daily Telegraph newspaper.
It says it takes pride in serving all members of the LGBTQ+ community.
"Whether you identify as gay, lesbian, transgender, straight or anywhere in between, we create a welcoming experience for all couples looking for beautifully handcrafted engagement rings, wedding rings, promise rings and all fine jewellery," it says.
Pic shows the LGBTQ+ tab from the jeweler's website