Debswana Recovers 1,098-carat Diamond, Third Biggest in the World
June 17, 21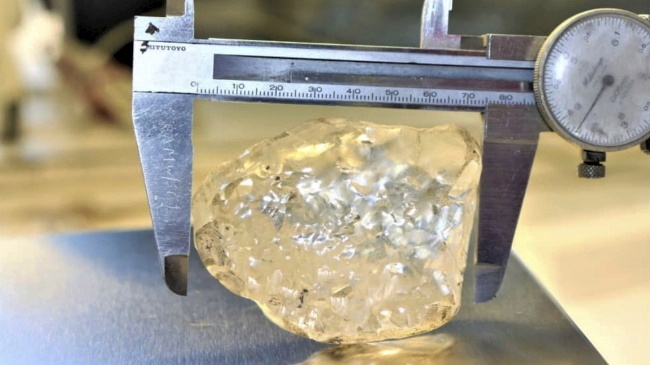 (IDEX Online) - A huge rough diamond, described as the third largest in the world at 1,098 carats, has been recovered by Debswana at its Jwaneng mine, in Botswana.
The biggest diamond ever is the 3,106-carat Cullinan found in South Africa in 1905 - used in the British Crown Jewels - followed by the 1,109-carat Lesedi La Rona discovered in Botswana in 2015.
The newly-recovered stone (pictured) measures 73 by 52 by 27mm and was presented to the country's president, Mokgweetsi Masisi, on Wednesday.
"This is the largest diamond to be recovered by Debswana in its history of over 50 years in operation," said Lynette Armstrong, acting managing director of Debswana, a 50/50 partnership between the Botswana government and De Beers.
Valuation by the Diamond Trading Co. Botswana is expected in a few weeks.
"From our preliminary analysis it could be the world's third largest gem-quality stone. We are yet to make a decision on whether to sell it through the De Beers channel or through the state owned Okavango Diamond Company."
The company said it used cutting edge technology to uncover and process the stone.