NDC Targets Buyers with Sustainability Campaign
August 29, 21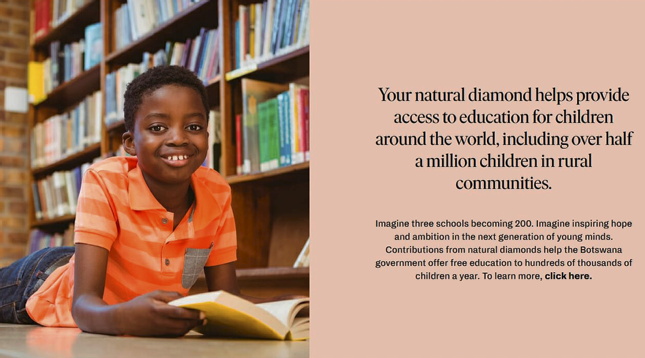 (IDEX Online) - The Natural Diamond Council (NDC) is targeting consumers with a series of nine ads highlighting the industry's commitment to sustainability.
The omnichannel campaign, called Thank You, By the Way, is supported by the Responsible Jewellery Council (RJC).
It focuses on socioeconomic and community benefits, and carry tag lines such as:
"Your natural diamond helps provide access to healthcare for more than 4 million people."
"Your natural diamond helps provide access to education for children around the world, including over half a million children in rural communities."
"With your natural diamond purchase you are helping protect biodiversity over an area of land the size of Paris, London and New York City."
"Your marriage proposal with a natural diamond just helped protect the endangered Rhinos and safeguard 200,000 hectares across southern Africa."
David Kellie, CEO of the NDC, said: "This isn't a new topic for the diamond industry. For the last two decades the industry has been doing this work, putting sustainability at the forefront of everything they do.
"But now more than ever, consumers have an appetite for it, they want to know the impact of what they are buying, and how their purchases are contributing to the regions and communities producing them."
Pic shows one of the NDC ads