Year of the Lab Grown? Full Analysis in IDEX's 2021 Pipeline Report
June 09, 22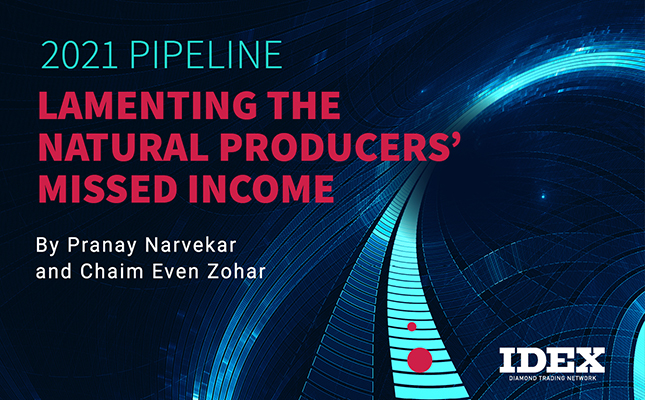 (IDEX Online) - This year could prove to be a tipping point for lab growns, say IDEX Online's expert analysts in their new 2021 Pipeline report.

The industry enjoyed a "dream year", but the mined sector lost a potential revenue of $20bn to lab growns, they say.
Sanctions on Russian rough - around 30 per cent of global supply - could now force high-end jewelers to start using lab growns in their pieces, and adjust their carefully crafted marketing messages.
"High Street jewelers and high-end jewelry chains, traditionally the greatest defenders of the natural product, have lost their inhibitions and are now the main LGD drivers, without reputational fears," say Pranay Narvekar and Chaim Even Zohar in their newly-published 17-page 2021 Pipeline Report entitled Lamenting the Natural Producers' Missed Income.
They say lab growns have become "legitimized", in particular by De Beers' Lightbox offering, and they predict a time when any price differential will disappear. "The market will know only one product, called diamonds."
Last year's Pipeline report predicted that the pandemic could prove to be a blessing in disguise. In 2019 it warned of an uncertain future.
Click here to read the new Pipeline 2021 report in full.
And click here to see the new Tacy Diamond Pipeline Chart, prepared by Pharos Beam Consulting.