For Sale: Diamond and Ruby Necklace from French Crown Jewels
October 04, 22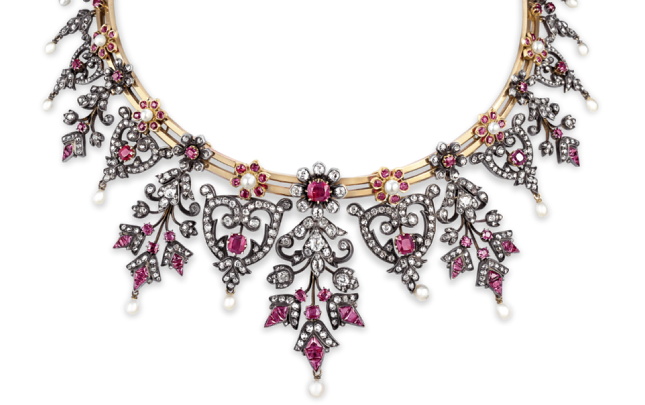 (IDEX Online) - An historic necklace from French Crown Jewels, set with diamonds and Burmese rubies, is being offered for sale, with a $375,000 price tag.
"This extraordinary necklace is truly fit for royalty," says MS Rau, antiques, jewelry and art sellers based in New Orleans, Louisiana, USA.
The necklace was part of a huge collection, including items dating back 400 years, which was auctioned off by the Third Republic in 1875, fearing a coup by royalist adversaries.
The 1830 necklace, complete with its original leather fitted case, is described as made in England, in Victorian style. No details are provided on the specifications of the rubies and diamonds.
It was the sale of the crown jewels that propelled Tiffany and Co's fortunes. Charles Tiffany traveled to Paris for the auction at the Louvre, bought a third of the collection and shipped the gems to New York.
Pic courtesy MS Rau.