Flat Denial: De Beers Hits Back on Claim it Broke Russian Sanctions
May 28, 23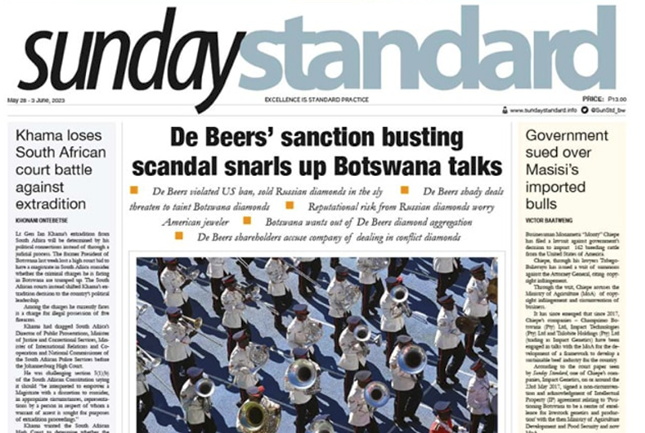 (IDEX Online) - De Beers today issued a flat denial over a "damaging" and "unsubstantiated" newspaper allegation that it had violated sanctions on Russian diamonds.
"Let us be clear - this allegation is not true," it said, in response to claims in the The Sunday Standard of Botswana.
The paper ran a front-page story today (28 May) headlined "De Beers' sanction busting scandal snarls up Botswana talks" - a reference to the government's demand for a larger share of the diamonds from a joint venture with De Beers.
It claimed De Beers had sold Russian diamonds, referenced "shady deals" that, it said, were threatening to taint Botswana's diamonds, and said US jewelers were concerned about the risk to their reputation from selling Russian goods.
It also repeated claims that Botswana wanted end its 54-year-old deal with De Beers and it said the company's own shareholders were accusing the UK-based miner of dealing in conflict diamonds.
De Beers said it had removed Russia from its third-party sourcing list after the Ukraine war started last February, and was adamant that it no longer sourced any Russian diamonds.
It also said the newspaper had failed to offer it the opportunity to respond to the allegations.
"It is concerning that even a cursory review of the facts would have demonstrated that these allegations are baseless," De Beers said.
It warned that the article suggested that the natural diamonds consumers bought from De Beers and other miners - a significant percentage from Botswana - were tainted.
"This is not true, but in an attempt to discredit De Beers, the article risks damaging much more. We expect that this won't be the last unsubstantiated headline. We will stay the course and continue to operate with the ethical integrity that our customers trust and makes our employees proud."
Pic shows the Sunday Standard front page story