Record 17.61-ct Bleu Royal Could Fetch $50m
September 18, 23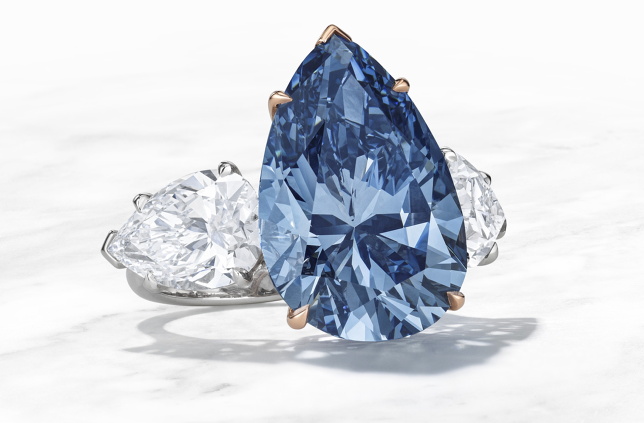 (IDEX Online) - Christie's Geneva today (18 September) announced it will be selling the largest internally flawless fancy vivid blue gem ever to appear at auction history, with an estimate of $35m to $50m.
The 17.61-carat diamond, named Bleu Royal, is set in a ring and has been part of a private collection for the last 50 years. It will be sold on 7 November as part of the Magnificent Jewels auction.
Less than three weeks ago Sotheby's Hong Kong said it would be selling another large blue diamond - the Infinite Blue, an 11.28-carat radiant-cut fancy vivid stone with an estimate of $26m to $37m.
And in May the 11.16-carat pear-shaped Bulgari Laguna Blu - certified as the highest grade blue diamond ever by the GIA - was auctioned for just over $25m at Sotheby's Geneva.
The record price paid for a blue diamond is jointly held by two gems, which both sold for $57.5m. The fancy-vivid-blue 15.10-carat De Beers Blue sold at Sotheby's Hong Kong in April 2022 for $57.5m, and the 14.6-carat Oppenheimer Blue sold at Christie's Geneva in May 2016.
Christie's say that in its 257-year history it has only ever sold three blue diamonds over 10 carats.
"This is a true miracle of nature," said Rahul Kadakia, christie's international head of jewellery.
"Over our long history Christie's has had the privilege of offering the world's rarest gems at auction, and Bleu Royal continues this tradition. We are proud to offer collectors the opportunity to own a diamond fit for royalty."
Pic of Bleu Royal courtesy Christie's