International Buyers Head to Bharat Diamond Week
September 18, 23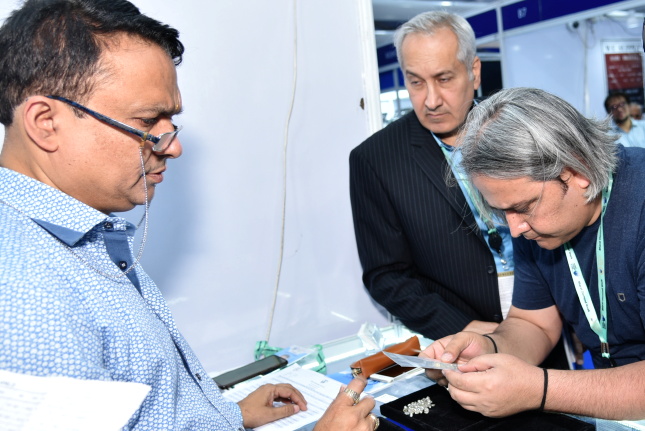 (In association with Bharat Diamond Bourse) The fifth edition of Bharat Diamond Week (BDW) will give India's smaller manufacturers a
chance to connect with big buyers from abroad.
Organizers say they already have delegations confirmed from China, Saudi Arabia, Sri Lanka, Cyprus, Brazil, Latin America, Japan and UAE for the three-day event.
They're expecting more international buying teams to register for BDW, in Mumbai, which starts on 2 October, in addition to around 500 visitors from across India.
BDW is designed specifically to give small and medium-sized companies, as well as individual players, an opportunity to display their goods without the expense of attending international shows.
The show was launched in 2018 by Bharat Diamond Bourse (BDB) with a particular focus on loose stones.
"Bharat Diamond Week is an opportunity for members to book stalls and display their respective products to visitors," said Mehul Shah, BDB's vice president.
"BDW gives an advantage to small and medium sized companies within BDB who might not have the means or bandwidth to participate in international shows but have exquisite products."
Organizers are expecting around 50 exhibitors, displaying polished diamonds, lab grown diamonds and jewelry.
"We have also allocated space for technology companies, grading entities and lab grown diamond companies," said Shah.
There will also be educational seminars by GII (Gemmological Institute of India) on technological advances in diamonds, color gemstones and pearls.
The show will also host the first India Jewellery Design Forum, on the importance of design, technology and business skills. The forum is jointly organized by NB Advisory services and the New Jeweller International Media group.
BDB, which has over 6,000 members, describes the show as a celebration of India's diamond industry.
BDW takes place from 2 to 4 October at Bharat Diamond Bourse.
For details visit www.bharatdiamondweek.com