Winner and Finalists in HRD Diamond Jewelry Design Contest
May 26, 05
Ceara McGuire, 20, of Belgium is the top winner of the 2005 HRD diamond jewelry design contest. Her winning design was five "slightly different" brooches, each of which constructed from paper folded in origami-style and traversed with a band of brilliant-cut diamonds, set in white gold.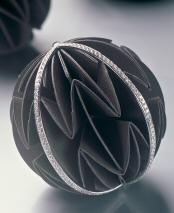 One of McGuire's winning broochs
The announcement, made at an evening affair of music and dance, revealed what were the top five designs out of 49 designs that reached the final round and 850 designs prepared by 490 artists from 55 countries. The ceremony was held in the old printing facility of the Gazet van Antwerpen.
The diamonds for McGuire's creation, with a total weight of 9.53 carats, were provided by Grossmann Diamond Manufacturing NV. The jewelry item itself was sponsored by J. Katz Jewellers and Etn. P.C. Boschmans NV.
Finalist Ming Yi Chang, 22, from China, turned to nature for inspiration when designing his "Globefish" necklace. Using yellow gold and rubber, the necklace was set with two pearls and 33 Exire brilliant-cut diamonds, with a total weight of 4.19 carats. The diamonds were provided by Inter Gems-Claes NV. The jewelry was sponsored by Zou Ningxin and the setting was providing by Brilliant Services.
Finalist Gaetano Del Duca, 35, from Italy, created a colorful bracelet called "Tin Tin." Set with 441 brilliant-cut diamonds, with a total weight of 14.55 carats, the diamonds were provided by Eurostar Diamond Traders. The jewelry item was sponsored by 999 Novecentonovantanove.
South African Finalist Cari-Mari Wilsenach, 28, created a "Roll a Dice" necklace, from interlinked dice made of silver and plastic, set with 1,200 brilliant-cut diamonds, with a total weight of 50 carats, which were provided by Crisdiam BVBA.
In creating her "Japanese Fan" necklace, finalist Shimada Sachiko, 40, of Japan, crafted strips of red bamboo, set against white gold with 489 brilliant-cut diamonds and one marquise cut diamond, with a total weight of 9.82 carats. The diamonds were provided by Tache Diamonds NV.
According to the jurors, the five finalist presented pieces that demonstrated the artist's excellence, and scored high in terms of innovation, enthusiasm and craftsmanship. First and foremost, they reflected the spirit of the 2005 competition's theme "Diamonds Are Fun."
The HRD Awards is considered by many to be the premiere diamond jewelry design competition in the world, with focus on extravagance and avant-garde.