Treasure's Trove Fourth Token Found, Hunt Continues for Rest
June 14, 05
Several months after a book that holds clues to the location of real world hidden treasures was published, the fourth treasure has been found. Following the hints hidden in "A Treasure's Trove: A Fairy Tale About Real Treasure for Parents and Children of all Ages", a reader found one of 12 tokens that the author has hidden in public places.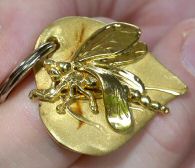 The token for the $25,000
sapphires and diamonds jeweled
leaf with a dragonfly.
Photo: Bob Donaldson, Post-Gazette
The story by Michael Stadther and his accompanying illustrations have clues to finding 12 hidden treasures, all located in the continental U.S., in public places, not requiring anything to be lifted or moved, accessible to everyone and worth a total of $1 million.
The book grabbed worldwide attention, reaching number 2 on The New York Times best-seller list for children's paperbacks, and sent readers to try and figure out the clues.
Two weeks ago reader Jake Pultorak became the fourth person to find one of the hidden treasures, a token for a jeweled leaf with a dragonfly on it set with sapphires and diamonds and valued at $25,000, in a Pennsylvania state park.
Pultorak said he bought the book for his puzzle loving four-year-old daughter. The solution, that required deciphering a code hidden in the number of veins on leaves and lining up maps, led to a 4 1/2-hour trip to the park where the jewel was found in a tree knothole that was illustrated in the book.
The other three items that were found are the grasshopper at James Baird State Park in New York; the snail in Iowa's Lake Anita State Park; and the butterfly, found in North Carolina.
All the jewels were made by Stadther and Jewelry Designs of Danbury. The rest of the jewelry pieces are valued from $8,500 to $450,000.
The author plans to end the hunt on December 31, 2007, and award the jeweled prizes in 2008.
Pultorak and his family made a guest appearance on the "Today Show" in New York, where they met Stadther and the jeweler who created the items.