IDEX Online Research: U.S. Online Jewelry Sales Jump in 2007
February 26, 08
Online jewelry sales in the U.S. market in 2007 were roughly $4.8 billion, or 7.4 percent of total jewelry sales, according to preliminary data from the U.S. Department of Commerce. In the prior year (2006), revised data suggests that online jewelry sales were $4.0 billion, or 6.4 percent of all jewelry sold in the U.S. Prior to this major revision in data, the Commerce Department had reported that just $2.5 billion, or 3.9 percent of jewelry sales were made online in 2006.
The substantial difference between the revised data and the previously reported numbers is due to a single key factor:
The Commerce Department changed its source for determining online jewelry sales. Its new source calculates online revenues differently from the government's prior source.
In addition to the newly revised "actual" sales figures, the Department of Commerce released its first-ever forecast of online jewelry sales that suggests they will represent just over 10 percent of total industry sales by 2010.

Based on revised data from prior years, as well as preliminary data for 2007, the graph below summarizes online jewelry sales, both actual and estimated, through 2010 for the U.S. market. The forecast is based on newly revised government data.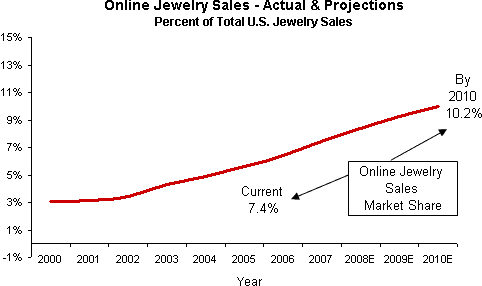 Source: U.S. Dept. of Commerce

What Happened To The Government Numbers?

As IDEX Online Research delved into the disparity of the numbers between 2006 and 2007, here is what we found to be the dilemma: the government changed its source for determining online sales by retail category. In 2006 and prior years, the government relied on Jupiter Research as its source for online jewelry sales. Beginning in 2007, it began using data from Forrester Research. Both Jupiter and Forrester are well-known, well-respected online research data aggregators and analysts.

In our experience, when comparing the data between Jupiter and Forrester, we have found that Jupiter's data tends to be on the low side of reality, while Forrester's data appears to be on the high side of reality. For example, in another online retail category where sales are available from both sources, consumer electronics online revenues were reported by Jupiter to be $5.0 billion in 2006 while Forrester reported $9.8 billion for the same category in the same year. Additionally, for the full year of 2006, the Commerce Department estimates that online sales were $110 billion; Forrester's estimate is $132 billion.

Who is correct? The truth lies in the middle somewhere, in our opinion. No one has been able to supply an adequate explanation to IDEX Online Research.

IDEX Online Will Use Government Numbers

In lieu of another unbiased source, IDEX Online Research will continue to use U.S. Commerce Department numbers. Thus, we have adjusted all of our data and graphs to reflect the newly revised data.

Officially, it appears that online jewelry revenues were about $4.8 billion or 7.4 percent of total jewelry industry sales in 2007. Preliminary jewelry sales in the U.S. market in 2007 were $64.8 billion.

Total Retail Online Sales for 2007

The U.S. Department of Commerce has reported that total online commerce was about $136.4 billion in 2007, up 19.0 percent from the prior year. As a percentage of total retail sales, e-commerce sales in 2007 were 3.4 percent, up from 2.9 percent in the prior year.


The graph below compares online retail penetration for all retail categories versus online penetration for jewelry sales.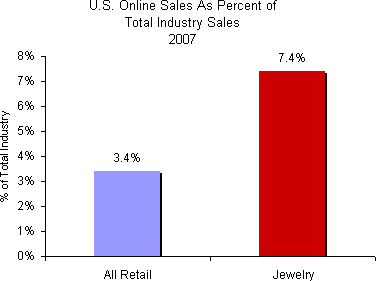 Source: U.S. Dept. of Commerce
Why are online jewelry sales, as a percentage of total industry sales, so high in comparison to the average for all retail categories? Currently, most online jewelry sales represent diamond jewelry. A recent study by ad agency JWT suggests that roughly 80 percent of all online jewelry sales are diamonds and diamond jewelry. Because diamond jewelry carries a much higher average ticket than other jewelry categories, the bias in sales towards diamonds is pushing up the reported online sales penetration. Further, consumers are increasingly buying from online jewelers because they offer the same goods at a much better price than most store-based jewelers.
Data Summary
The following table summarizes preliminary data released by the U.S. Department of Commerce about online retail and jewelry sales. Prior years' data may have been revised multiple times, and does not always foot and cross with the latest data. Further, U.S. Retail Sales as calculated on this table include automobile sales, a category that IDEX Online Research eliminates in its calculations.


Source: U.S. Department of Commerce, Forrester Research, IDEX Research