"Apples of Gold in Pictures of Silver" Exhibit Opens
September 08, 08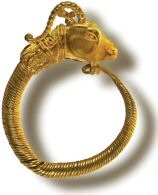 Gold earring with a deer
head from the Hellenistic
period (481-97 BCE). Found in
a burial cave in Za'akooka,
Judea Plain, Israel.
Small, delicately designed gold jewelry items dating as far back as 2,500 BCE document fashion, class and even manufacturing capabilities in an exhibit about to open at the Harry Oppenheimer Diamond Museum in Ramat Gan, Israel.
More than 100 gold jewelry items found in archeological digs in
Israel
are on display at the exhibition, the latest from the Ottoman period (1517-1917). Animals, goddesses and geometric shapes dominate the designs, used to signify power, wealth, status as well as beliefs. The items, on loan from the Hecht and Rockefeller museums, are mostly minute and could be a reflection of the scarcity of gold.
"The exhibition remembers and salutes the ancient Israeli [jewelry] designer," Eli Avidar CEO of the museum and the Israel Diamond Institute said.
According to curator Yehuda Kassif, there are 46 words in Hebrew to describe jewelry, underlining the importance jewelry had in ancient times.
The exhibition "Apples of Gold in Pictures of Silver" opens on Friday September 12 and admission is free.