IDEX Online Exclusive: KP Chair Hirsch Speaks of Zimbabwe, Israel and Changes to the Process
March 18, 10
In his first interview as Kimberley Process Chair, Boaz Hirsch tells IDEX Online that Zimbabwe is "on the agenda" and that he wants to form a workgroup to resolve problems. However, ending the requirement for unanimous decisions within the KP is not on the table, he says.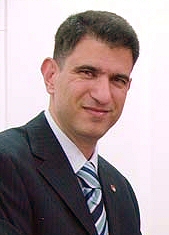 KP Chair Hirsch (above)
wants to form a committee
to resolve KP issues
It took some time to set up an interview with Hirsch, who also serves as the director general for Foreign Trade at the Israeli Ministry of Industry, Trade & Labor. He is often out of the office, traveling around the world to encourage and support Israel's international trade and trade relations. Add to that his extra KP responsibilities, and the available time seems to contract even further.
When we spoke, Abbey Chikane's appointment as the KP Monitor in Zimbabwe had not yet been finalized. However, it was already clear from the Terms of Reference that define the Monitor's role that the job would be limited to ensuring that the goods exported as Marange goods are indeed from the controversial diamond fields.
What the ToR does not include is a system on how to monitor activities at the fields, such as the prevention of smuggling or human right abuses. These issues are at the heart of the outcry about Marange.
Hirsch seemed confident that these issues can and will be addressed. Following are his comments.
IDEX Online: What is Israel's vision for the KP chair tenure?
Boaz Hirsch: "Israel's vision is based on the importance of the process, on the fact that it should be a long-term one and finding how to strengthen it. For example, one of the things we are looking at is Zimbabwe. This is an issue on the agenda and we hope that the cooperation will continue.
"Secondly, we are examining the issue of informal mining, which is mainly an issue of fulfillment, it's a technical issue."
A shipment of rough diamonds from De Beers was blocked a year ago because of a clerical error in the accompanying KP certificate. In a recent case, two young Israeli diamond dealers bought a parcel of rough diamonds in Africa, brought it to Israel and declared it. The goods were confiscated because they didn't have a certificate and were purchased in a non-KP-member country.
To follow official protocol, the goods should either be kept by authorities or returned to their originating country. However, if the goods are kept by Israel, eventually they will be auctioned and placed into the stream of legitimate trade. If returned to Africa, they will be sold again, only to enter the legitimate trade. If the outcome is the same, clearly a mechanism to resolve such issues is necessary. The current system does not provide room for correcting such errors, and Hirsch is seeking to address this.
"Israel suggested a workgroup for the resolution of problems, such as shipments of rough diamonds that their accompanying KP certificate is not fully detailed but there was no need to confiscate them. We want to establish a committee that will include the heads of the NGOs, WDC and country representatives. This was discussed," Hirsch told IDEX Online.
IDEX Online: Turning to Zimbabwe, is the KP able to address the issues there effectively? Isn't the need for a unanimous decision crippling? After all, all it takes is for Zimbabwe to vote against any decision relating to it to block a ruling.
Boaz Hirsch: KP is a consensus-based process, it's not perfect but it's one of the building blocks of the process. The [Monitor's] Terms of Reference is a strong document. The process is dynamic, and when you look at it … it takes time to check, validate information. We can't do it instantly.
"The monitor is quite a strong mechanism," Hirsch claims. "In addition, we agreed that there will be another review mission. If it takes place regularly, we will have a good picture of the situation. It is important that the exchange with Zimbabwe continues, it's important."
IDEX Online: Where do you stand on the need for a unanimous vote to arrive at decisions and hiring a full-time employee that will be in charge of knowledge transfer from one Chair to the next, updating the KP website, etc., and other suggestions that were made to improve KP's ability to operate effectively?
Boaz Hirsch: We are currently looking into creating a body of knowledge for the KP. As far as consensus is concerned, I'm not there yet. The consensus is a firm characteristic of the process. [Forming the resolution workgroup and addressing the situation in Zimbabwe] is ample for a one-year presidency. We need to have results on two issues instead of bringing six to the table.
IDEX Online: Your background is not in diamonds. Whom did you consult with when you joined the KP?
Boaz Hirsch: I took a few weeks to think about [becoming the chairperson on Israel's behalf] and consulted with Israelis and others abroad, such as World Diamond Council President Eli Izhakoff. I was attracted to it because it was interesting. This industry affects the lives of millions of people in developing countries around the world.


Hirsch: KP is a process that looks at human rights issues via the diamond industry
IDEX Online: Is adopting human rights issues a top priority of the KP?
Boaz Hirsch: This is a process that looks at human rights issues. Period. It looks at it via the diamond industry. It is still being seriously discussed and all the participants consider it a vastly important issue. There is a difference between human rights in the diamond industry and human rights in other industries.
IDEX Online: Are there other important issues that need to be addressed?
Boaz Hirsch: Maybe we should look closer at smuggling. Should we bring non-members into the fold to correct this? Enforcement is another issue - we want to discuss this at the inter-plenary meeting.
IDEX Online: Anything else that you would like to add?
Boaz Hirsch: We are in a process. I'm eager to hear from the industry and will welcome any input people may have. They can email me.
The chairmanship is a huge responsibility that affects millions of people. The burden is on our shoulders to not only maintain, but to add value to all parties in the process. Coming from a country that is one of the largest in the industry, we can appreciate [the importance].
We need to find the equilibrium that will bring it to a better place for the interest of everybody.