IDEX Online Rough Diamond Report: Prices Rise and Rest
May 06, 10
As was expected, the Diamond Trading Company (DTC) raised prices at its fourth Sight of the year. Some may argue that it goes contrary to reason, as runaway prices in 2008 were perceived to cause only harm to the industry. However, if a client leaves cash on the table, why shouldn't the seller pocket it?
The rising prices did not skip any of the main suppliers to the market. Bids at BHP Billiton's spot market pushed prices up by 5 percent on average, according to reports. Rio Tinto adjusted prices too. Harry Winston Diamonds (HWD) offered its goods at higher prices, but reportedly some of the articles were priced too high and were left on the table. The company later offered the unsold items to non-regular clients.
Other major rough diamond suppliers, offering Angolan and DRC goods, increased prices by mid-single digit percentage points. The DTC raised prices by 4-5 percent on average, at a fairly large Sight, estimated at $470-$480 million.
Premiums on the DTC boxes declined as expected, from about 13-14 percent to about 11-12 percent. This means that as opposed to the last price hike, when premiums declined to leave prices in the secondary market unchanged, the prices of DTC boxes increased in the secondary market too.
Assessing the price changes at the DTC was difficult this month, after it changed box compositions.
Prices and Premiums
One observer called the market crazy, arguing that prices don't make sense. The reason for this, he explained, is that even at the DTC list price, manufacturing is nearly not economical, especially in the +2 carat goods. The +2 carat boxes saw prices rise by 6-7 percent on average, with market premiums adding another 11-12 percent.
As an example of the situation, consider the Cubes 4-8gr box. Its price rose by nearly 5 percent to about $565 per carat (depending on box composition), and the premium remained at 12 percent.
Spotted goods were in strong demand in India, commanding premiums as high as 18 percent, according to one trader. Indian goods in general saw list prices rise by 8-15 percent, according to another source. Again, the change in composition makes it difficult to asses.
Select MB 2.5-4 cts sold on the secondary market for about $1,220-$1,230 p/c, after a high single digit premium. Fine goods, in continued high demand, maintained their ~12 percent premium.
Rough Vs Polished Prices
If a box of rough could be polished instantaneously, there is a chance that the output would sale at a loss. Asked about the price of rough compared to the resultant polished, an insider spoke of "optimistic prices," prices that reflect the optimistic belief that by the time the rough is polished, the price of polished diamonds will meet the cost and leave a small profit, or at least allow breaking even. That break even scenario is not all bad - the turnover allows paying the bills of a polishing facility and its workers.
This calls for a comparison of rough and polished diamonds. From its peak in September 2008 to the bottom of the fall in April 2009, the price of rough fell by about 46 percent. The price of polished prices fell by 16 percent from their peak in August 2008 to their April 2009 lows.
This means that for prices to return to their 2008 peak, rough needs to rise by 84 percent and polished by 19 percent.
In the year that passed since April 2009, polished prices rose by 5.8 percent, or by less than a third of what was lost, far from regaining the prices seen in 2008. Rough prices, however, rose by much more. Based on figures from Harry Winston Diamonds, prices are up by nearly 85 percent, confirming that the price of rough, on average, is back to its historic high. However, HWD is an expensive supplier that was hit hard by the crisis and thus, prices fell from a very high level to a very low one.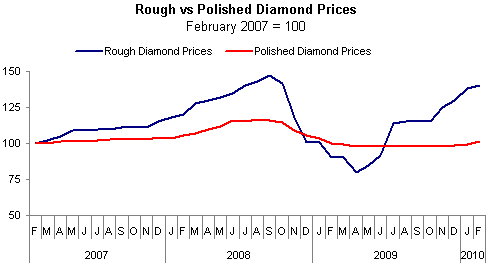 An index of Harry Winston Diamonds prices (blue) against the IDEX Online
Polished Diamond Price Index (red) underscores the volatility of rough
diamonds compared to polished
Source: Harry Winston Diamonds & IDEX Online
In the case of the DTC, when comparing prices from Sight 4 in 2009 to the last Sight, the price of many boxes rose by about 40 percent. DTC goods regained about half of the loss. For example, Chips 4-8grs rose by 39.5 percent to $667, MB -5+3 rose by more than 43 percent, MB High -7+5 increased by 40 percent, Commons 2.5-10ct shot up by 51 percent (before the premium of around 20 percent), Commercial 2.5-4ct rose by 45 percent. Conversely, MB 4-8grs rose by 20 percent and the price of the Commercial 5-14.8ct is practically unchanged.
While change in DTC prices is not as extreme as HWD, still the price of rough is quicker to recover, outpacing the recovery of polished diamonds.
Outlook
After the rush for goods last week, this week a cooling down was noticed in the market. As noted above, premiums tapered off a little, and many of the boxes that were not sold last week are still available this week in Antwerp and Israel. Sellers still want the high prices but buyers are less willing to pay.
While we are far from suffering from a glut of goods in the market, prices are expected to cool off until after Sight 5 in early June. As it takes place right after the important trade shows in Las Vegas, sales and general mood at these shows may impact what will happen to rough prices after mid-June, into July.
If buyers will pay the higher prices, and the offered jewelry designs will be exciting, the good mood may set the ground for additional rough price hikes. A very weak show may result in a subdued rough diamond trading environment. Anything in between leaves a big question mark.
Demand for DTC Boxes during and after Sight 4
Article

Demand

Remarks on Demand

Fine 2.5-4 ct & Fine 5-14.8 ct

Demand is high on 2.5-4

and High for 5-14.8

Similar demand compared to previous Sight

Crystals 2.5-4 ct & Crystals 5-14.8 ct

Very Strong demand in 2.5-4 ct and Strong demand for 5-14.8 ct

Similar demand compared to previous Sight (based on lack of goods in the market)

Commercial 2.5-4 ct & Commercial 5-14.8 ct

Strong demand for 2.5-4 ct., Medium demand for 5-14.8 ct

Similar demand compared to previous Sight

Spotted Sawables 4-8 gr

Strong demand

Higher demand compared to last Sight

Chips 4-8 gr

Strong demand

Strong demand even after price adjustment. (based on less availability)

Colored Sawables 4-8 gr & Colored 2.5-14.8 ct

Strong demand for 4-8 gr

and strong demand for 2.5-14.8 ct

Similar demand compared to previous Sight

Makeables High 3 gr +7

Good demand

Less demand compared to previous Sight

Preparers Low 3-6 gr

Medium demand

Strong demand compared to previous sight

1st Color Rejections (H-L)

Medium demand

Similar demand compared to previous Sight