Supermodel Naomi Campbell Subpoena Request over 'Blood Diamond'
May 23, 10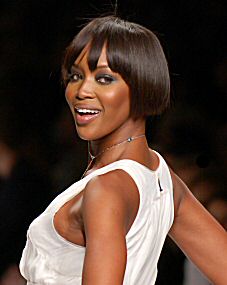 Campbell (above) allegedly received
a rough conflict diamond from former
Liberian president Taylor
Being pretty and known proved to be not just a good source of income for supermodel Naomi Campbell, but also for trouble. Prosecutors on Thursday asked to subpoena Campbell to testify about a diamond she allegedly received as a gift from former Liberia President Charles Taylor.
UN war crimes prosecutors filled the request with the special court for Sierra Leone, which was formed to try those responsible for war crimes and crimes against humanity committed during the country's civil war.
Actress Mia Farrow told ABC News in the U.S. that the model got a "blood diamond" from deposed Liberian President Taylor in September 1997. Farrow claimed that Campbell told her that she was given such a diamond from Taylor.
Taylor is standing trial for his role in inflaming a civil war in Sierra Leone, a war that gave rise to the use of diamonds to pay for weapons, otherwise known as Blood Diamonds or Conflict Diamonds.
In a short interview with ABC News, Campbell denied that she receives such a diamond. When the interviewer continued to ask about the diamond, Campbell stormed off the set, punching the camera held by the producer in the process.
At the time, prosecutors said they do not plan to question Campbell about the diamond or ask her to testify against Taylor. The request to subpoena testifies that they changed their mind.
They are also asking to subpoena Farrow and Campbell's former agent, Carole White. White has testified that she heard Taylor say he was going to give Campbell diamonds and was present when they were delivered, the Guardian reported.
According to court documents, repeated attempts to interview the model had been unsuccessful. "Thus, judicial intervention in the form of a subpoena is necessary," the prosecution stated.