IDEX Online Research: U.S. Jewelry Sales Strong in July
October 10, 10
(IDEX Online News) - Consumer demand for jewelry was strong in the U.S. market during July. Both specialty jewelers and other retail merchants who sell jewelry posted solid sales gains, according to newly released data from the U.S. Department of Commerce.
· Total U.S. jewelry sales rose by 8.2 percent to $4.1 billion in July 2010 over the same month last year. Based on prior years' July results, jewelry sales have recovered to the same level as July 2007 and July 2008, both record months for jewelry sales.
· Specialty jewelers' sales rose by 7.3 percent to $2.1 billion in July 2010, when compared to their jewelry sales in July 2009. Unfortunately, specialty jewelers' sales are still running below record pre-recession levels.
· Jewelry sales gains of 8 percent far out-paced total retail sales gains of about 5 percent in July. Jewelry is capturing an increased share of wallet in the U.S.
The graph below summarizes monthly sales gains for the U.S. jewelry industry.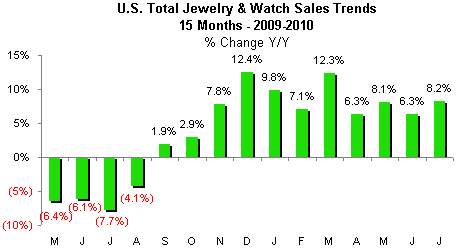 Source: US Dept of Commerce
The outlook for jewelry sales in the U.S. remains very positive for the balance of 2010 and beyond.
· Most economists now believe that the U.S. economy will not slip into a double-dip recession. Recent data relating both to unemployment and manufacturing suggest that there has been no further deterioration of those markets. Further, the Fed has committed to supporting the U.S. economy further.
· The latest preliminary government figures show that the U.S. jewelry market is on target to generate $63.3 billion in sales in 2010, though we believe this will be revised to about $63.0 billion. This would represent a 2.1 percent gain over the prior record of $62.0 billion generated in 2008. This forecast is based on seven months of data.
The full analysis is available to IDEX Online Research subscribers and IDEX Online members here. Click here for more information on how to subscribe or become a member.