Despite Lower Sales Volume, BHP Billiton Diamond Revenues Rise (Updated)
February 16, 11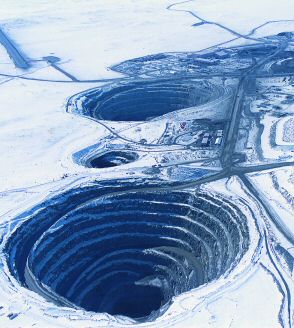 BHP Billiton's Ekati mine in Canada
(IDEX Online News) - High rough diamond prices helped BHP Billiton increase revenues from diamonds despite a decline in production and sales. The company's diamond sales generated revenues of $427 million in the half year ending December 31, an 11.5 percent increase.
EBITDA increased 12.6 percent to $278 million, according to an interim results announcement.
BHP Billiton said that significantly higher diamond prices were partially offset by lower diamond sales volume.
BHP Billiton's diamond production during the six-month period totaled 1,379,000 carats, a 10 percent decline, the company said in a previous report. This represents the company's 80 percent share of Ekati's production. The mine's production in the period was 1,723,750 carats.
According to the company the average of Ekati's production was $248 p/c, rising 25% from the $199 p/c achieved in the same period of 2009.
For 2010, Ekati's production declined 15 percent to 3,611,250 carats and diamond sales increased 37 percent to $945 million for an average of $262 p/c. This clearly underscores the sharp rise in rough prices during 2010, in BHP Billiton's case, 62 percent year-over-year.
(Last updated February 16, 2011 at 6:59 am)