Leibish Gets Lucky At the Argyle Pink Diamond Tender
December 28, 11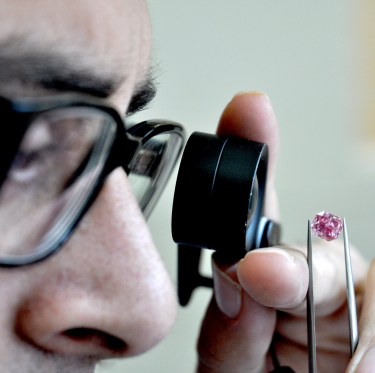 Shmulik Polnauer examining the 1.68 carat, fancy vivid
purplish pink Leibish Prosperity Pink

(IDEX Online News)
– Given the rarity of pink diamonds, anyone who makes a successful bid in the Argyle
Pink Diamond Tender is pretty lucky, but Leibish & Co considers itself especially lucky to have purchased six of them at last year's tender.
One of the six was a 1.71-carat diamond that Shmulik Polnauer, Leibish & Co.'s chief buyer, decided to re-cut. The result was a 1.68 carat fancy vivid purplish pink, radiant-shaped stone.
The re-polishing improved the stone in two ways. First, it significantly upgraded its color intensity, which upgrades its price.
The second improvement has to do with its new weight: 168 is an especially auspicious number in Mandarin.
The number one-six-eight rhymes with yāo liù bā, which translates as "forever wealthy." This term itself rhymes with another phrase that means "to keep being rich," "to keep making money," "want smooth prosperity" or "road to prosperity." The company therefore decided to name the diamond "The Leibish Prosperity Pink."
"The exceptional size of the 1.68 carat stone with such pure vivid color saturation is in of and itself a rarity," said Polnauer. "We haven't seen a vivid Argyle pink diamond over 1.5 carats for a long time in the market. The reddish color flashes and the exiting strawberry touch are unique markers of a real Australian Argyle pink diamond," he added.
Rio Tinto offered 55 diamonds in the Pink Tender. In 2010, Leibish won another six and in 2009, it successfully bid on one stone.