Polished Diamond Prices Post 17% Gain in 2011
January 04, 12
(IDEX Online News) – Polished diamond prices rose by a solid 17 percent during 2011, according to the IDEX Online Polished Diamond Price Index. This index confirmed that polished diamond prices are now above pre-recession levels, after two weak years.
The IDEX Online Polished Diamond Price Index is widely considered to be the most transparent indicator of polished diamond prices.
Even with the strong performance during 2011, polished diamond price gains remained in line with their long-term compound annual growth rate (CAGR) of about four percent annually, as the graph below illustrates:
Source: IDEX Online
Factors Affecting Diamond Prices
There were more positive factors than negatives pushing polished diamond prices higher in 2011.
Positive Factors
· Solid consumer demand from shoppers in America, the largest global market for diamonds and diamond jewelry.
· Strong demand from emerging markets such as China and India.
· Re-stocking of diamonds and diamond jewelry by retailers in virtually all markets.
· Higher rough diamond prices, which were passed along, in part, throughout the diamond pipeline.
· Some uncertainty about supply levels of rough diamonds caused diamantaires to increase their inventories early in the year.
· The Great Recession finally felt like it was over. Optimism permeated the industry, especially in the first half of 2011.
Negative Factors
· Industry illiquidity hurt the ability of some diamantaires to stock and trade gemstones.
· Above-average geopolitical volatility around the world, from the Arab Spring to the European debt crisis to a dysfunctional U.S. Congress. When uncertainty levels are high, consumers tend to tighten their purse strings.
· Lack of consistent, predictable demand from retailers. Retailers restocked after the 2010 holiday selling season, but slowed their restocking mid-year.
While the year showed an overall polished diamond price gain of seventeen percent, monthly price volatility was unusually high. The graph below summarizes the monthly price gains and declines of polished diamond prices. Prices surged early in the year, but languished in the final five months.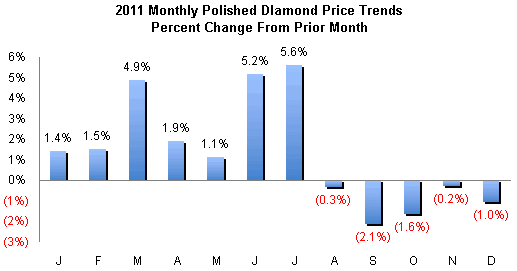 Source: IDEX Online
Diamond Prices Mixed By Size
Prices of diamonds one-half carat as well as three and four carat gemstones posted the largest gains, while prices of other key sizes showed smaller increases, as illustrated by the graph below: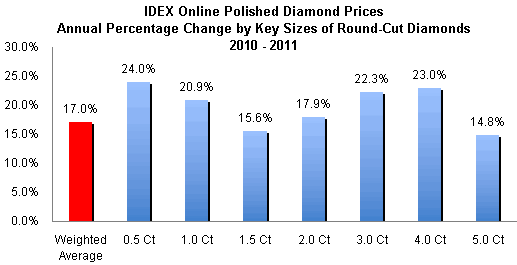 Source: IDEX Online
2011 Price Gains by Size Are Off-Trend
These price increases in 2011 did not reflect long term polished diamond price trends. Historically, larger carat stones – three carats and greater – have shown above average price increases. However, in the post-recession period, the market has become bifurcated: low-end goods and high-end goods are in demand, but middle market demand has been a bit softer. The graph below summarizes the long-term compound annual growth rate (CAGR) for the key sizes of stones.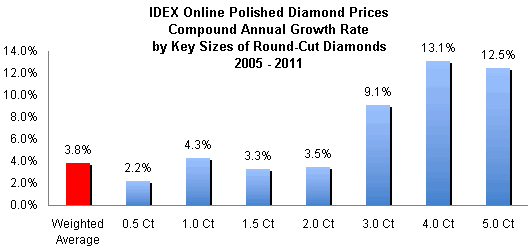 Source: IDEX Online
Outlook: Near-Term Uncertain; Long Term Bright
There is above average uncertainty in the global markets as the diamond industry enters 2012.
· The good news: while the U.S. economy has shown a modest post-recession recovery, most economists are predicting that 2012 economic gains will outpace 2011's tepid growth. The American market accounts for just under half of global demand for diamonds and diamond jewelry. There is a high correlation between economic cycles and diamond demand. Therefore, if the U.S. economy posts improvement in 2012, it is reasonable to assume that polished diamond demand will strengthen in this market.
· The bad news: other global markets are pinched. In Europe, the consensus is that the European Union will slide into a recession in 2012. Further, its debt crisis could be a drag on other nations' growth, especially if Europe's pace of imports slows. In China, the frantic economic growth of the past decade is slowing, though economists are calling for a soft landing in 2012.
· The OECD – the Paris-based think tank – suggests that the global economy is poised for a modest slowdown in 2012. This will have a dampening impact on polished diamond demand.
Longer term, polished diamond prices appear to be headed higher due to several factors:
· Emerging markets, including China and India, are poised for long-term growth. As consumer wealth builds in these markets, shoppers will be spending more on jewelry.
· Rough diamond supplies appear to be flat for the next decade or longer. With flattish supply, but rising demand, the forces of capitalism will push diamond prices higher.
The full analysis of the polished diamond prices is available to IDEX Online Research subscribers and IDEX Online members here. Click here for more information on how to subscribe or become a member.