IDEX Online Research: Polished Diamond Prices Slip Again in January
February 02, 12
(IDEX Online News) – Polished diamond prices slipped by about three-tenths of one percent in January, when compared to December 2011, according to the IDEX Online Polished Diamond Price Index.
The full analysis of the polished diamond prices is available to IDEX Online Research subscribers and IDEX Online members here.
While the decline in polished diamond prices was very modest, it was the sixth consecutive month that prices slipped, when compared to the prior month, as the graph below illustrates: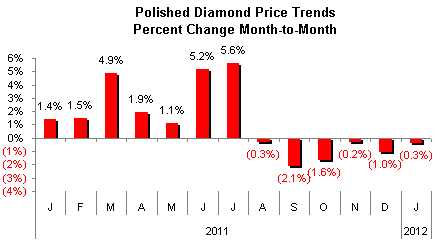 Source: IDEX Online
Uncertainty Has Created a Choppy Polished Diamond Market
Why have diamond prices been slipping? Several factors came together during the second half of 2011 that continue to have a negative impact on the industry and consumer demand today, including the following:
· Tightening credit lines for diamantaires, especially in India.
· Sharply rising gold prices that have scared consumers away from buying any jewelry.
· S&P's downgrading of the U.S. credit rating has created uncertainty.
· A flare-up in the Euro debt crisis has added to economic uncertainty.
· Slowing growth in India, with a sharp decline in the value of the rupee.
· Slowing growth in China, which could hurt consumer demand for diamonds.
Diamond Prices Mixed In January
Key points about January diamond prices, based on the IDEX Online Global Polished Diamond Price Index, widely acknowledged as the most transparent source of prices, are as follows:
· Prices edged lower for many – but not all – of the major polished diamond sizes in January versus December.
· Prices for one and one-half carat and four-carat polished diamonds rose, while prices declined for other major categories. Interestingly, the decline was quite uneven, reflecting high levels of uncertainty about prospects for polished diamond demand in 2012.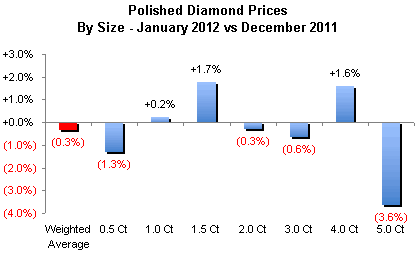 Source: IDEX Online
· Prices weakened very modestly as the month progressed, though the IDEX Online Index moved upward late in the month. This was more of a mix issue than any real strengthening of diamond prices.

The graph below summarizes daily price movement for polished diamond prices during January 2012.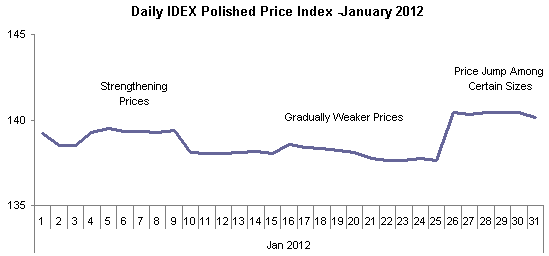 Source: IDEX Online
Longer Term View Shows Overall Softening Market
The graph below illustrates polished diamond prices over the past twenty-four months. After posting a solid recovery in the post-recession period, polished diamond prices have trended slightly lower since mid-year 2011.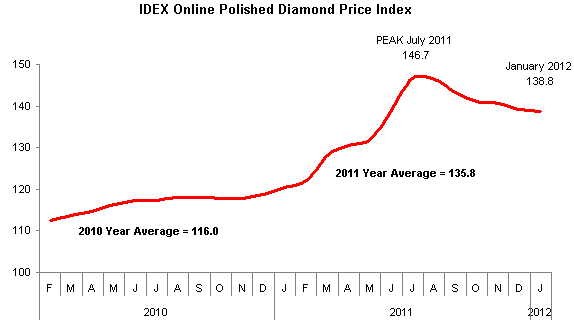 Source: IDEX Online
Outlook: Near-Term Uncertain
There is above average uncertainty in the global markets as the diamond industry moves into 2012.
· The good news: while the U.S. economy has shown only a modest post-recession recovery, most economists are predicting that 2012 economic gains will modestly outpace 2011's tepid growth. The American market accounts for just under half of global demand for diamonds and diamond jewelry. There is a strong correlation between economic cyclicality and diamond demand. Therefore, if the U.S. economy posts improvement in 2012, it is reasonable to assume that polished diamond demand will strengthen in this market.
· The bad news: other global markets are pinched. In Europe, the consensus is that the European Union will slide into a recession in 2012. Further, its debt crisis could be a drag on other nations' growth, especially if Europe's pace of imports slows. In China, the frantic economic growth of the past decade is slowing, though economists are calling for a soft landing in 2012.
· The OECD – the Paris-based think tank – suggests that the global economy is poised for a modest slowdown in 2012. This will have a dampening impact on polished diamond demand.
The full analysis of the polished diamond prices is available to IDEX Online Research subscribers and IDEX Online members here. Click here for more information on how to subscribe or become a member.