Detailed Diamond Image in GIA's New Digital Diamond Report
February 19, 12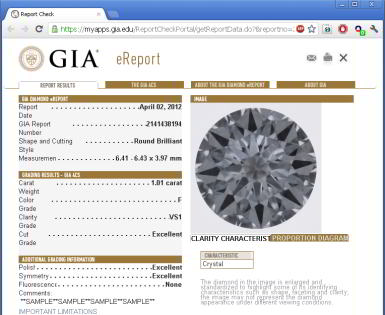 To try the new report, glick here and next to Report Number enter
2141438194 and next to Carat Weight enter 1.01.

(IDEX Online News)
– The GIA (Gemological Institute of America) added the GIA Diamond eReport to its services as a diamond grading report option. The new service delivers GIA grading results completely online.
The GIA Diamond eReport is available for natural, D-to-Z color diamonds from 0.15 to 2.99 carats and delivers grading results completely online via Report Check, GIA's secure web-based report database.
This new digital-only report provides grading results in a format that is not only more environmentally responsible, but also meets the needs of an evolving marketplace where information must be accessed and communicated rapidly, the GIA said Friday.
The online report facilitates trading by allowing for easy sharing of report results and diamond image via email, online and mobile devices as well as provides instant access to report results from anywhere in the world via Report Check
As an added benefit, the paperless format allows GIA to offer this grading service at a lower fee – 10 percent compared to paper-based Dossier and Diamond Grading Report fees.
This service delivers the same grading metrics described on GIA printed reports, but with the added feature of a detailed face-up image of the diamond captured during the grading process. This image and the diamond's metrics are permanently stored in GIA's database, ensuring permanent access to the diamond's information and its identification.
"Our goal is to continue to develop methods that allow us to deliver technical information to our clients rapidly and, in turn, help our clients pass that information on to their customers," said Thomas M. Moses, GIA senior vice president of laboratory and research.
According to Moses, the GIA has plans to expand its digital offerings.