Come As You Are, We'll Supply You With Everything Else! IDEX announces OnSite
April 23, 12
If you've wondered what it takes to have a fully operational e-commerce website, chock full of diamonds that don't cost you anything to have in your inventory, here's the short answer: just a phone call.
Hearing the concerns of specialty jewelers who are struggling to compete with online retailers, IDEX Online now offers jewelers everything they need to go online and start competing. With IDEX OnSite, you receive the most important tool of all a fully embedded web database of diamonds with hundreds of thousands of goods.
Developed in cooperation with Paasweb – Advanced Web Solutions, IDEX OnSite is here to serve YOUR needs!
Show your customers fresh goods sourced directly from the inventories of the world's largest diamond manufacturers, set your own margins and spare yourself the cost of a pricy inventory. With the IDEX Online system, you buy the goods only after your customer commits to the purchase!
You may call this fighting power, we call it IDEX OnSite, a fully operational online system and inventory that gives you the ability to go online without the need to build and maintain a costly online operation!
All You've Got Is A Domain Name? That's All It Takes*
There's no need to have a website. We'll supply you with:
A fully operational B2C website with an inventory of billions of dollars worth of goods

Your own façade – decide on your own graphics, colors and brand

Your currency of choice (US$, Euro or Rupee)

The choice of a full website, an embedded search engine or a data feed

A site fully managed and controlled by you

The freedom to select the type of goods you are interested in by the 4Cs, price, grading lab, location, supplier, etc.

More than 450,000 diamonds

Automatically updated inventory

The ability to apply your own markups

Independent back-office management
(*you don't even need a domain name!)
Save on costs, overhead and inventory – and use that money for marketing!
To learn more, email customersupport@idexonline.com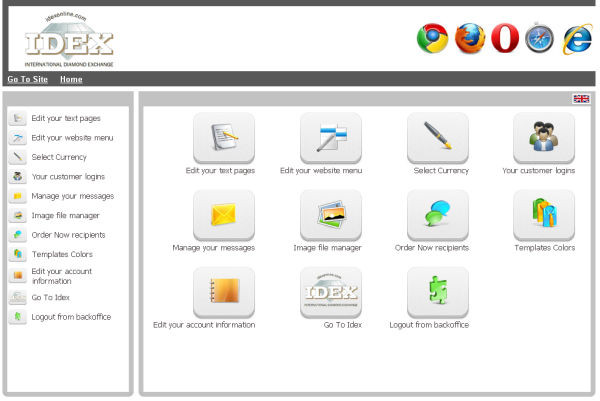 The IDEX OnSite back-office management tool gives great flexibility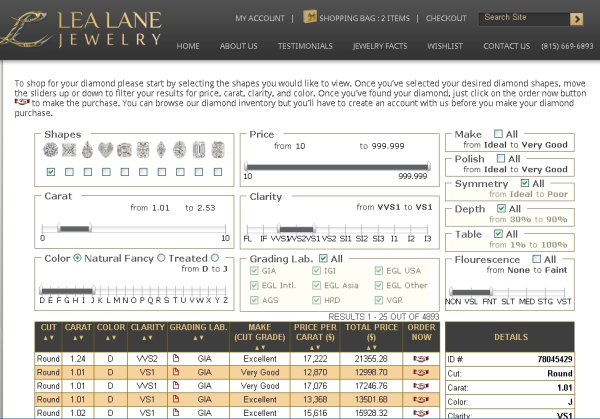 Sample implementation on the website of U.S. jeweler Lea Lane