$15 Mln Dress at AGS Conclave Fashion Show
May 01, 12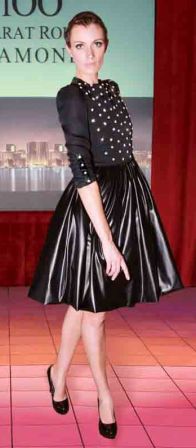 Tov International's $15 Million Dress

(IDEX Online News)

– While fashion and diamonds make the perfect combination, New York City-based wholesaler Tov International took the pairing to a whole new level with its one-of-a-kind $15 million Chloe & Reese-designed diamond cocktail dress at the recent American Gem Society (AGS) Conclave Fashion Show.

The "little black dress" features 100 triple excellent AGS- and GIA-certified 3 carat round diamonds. Eighty five of the diamonds are set on the bodice, four on each sleeve and seven adorning the back.

The dress was conceptualized by Tov's owner Rony Majer a year ago. "We wanted to do something that, to our knowledge, had never been done before. We saw the dress as a beautiful canvas to showcase Tov International's amazing collection of 3 carat round diamonds in a 21st-century approach," he said.