Return to Art Deco in Las Vegas
June 04, 12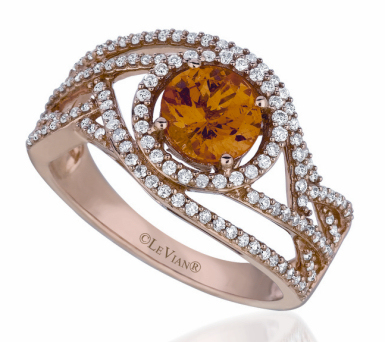 Jewelry by Le Vian
(IDEX Online News) – Call it
The Great Gatsby
effect, call it a desire to return to a more glamorous era or call it a love for great, classic design. No matter what you call it, the Art Deco influence is one of the prevalent trends seen here at the Las Vegas shows.
From Fred Leighton's newly launched collection to Ivanka Trump's signature Art Deco lines to the swinging tassel necklace and earrings – in every gemstone – found in many vitrines, designers are clearly getting their inspiration from the glamour of the 1920s and 1930s.
Even the diamonds are getting in on the act, with an increasing number of more geometric and old-style cuts putting in an appearance. While the ever-popular round and princess cuts continue their popularity, the Art Deco trend must be welcome news to diamantaires who have had less popular cuts – such as baguettes and trapizoids – sitting in their inventory.
And, with the upcoming release of the The Great Gatsby in December – for which Tiffany & Co. designed the jewelry – the jazz age looks sets for a real and continued comeback.
Moving away from the past, and proving that the tastemakers such as Pantone really do make a difference, tangerine and other orangey hues are to be found throughout the show floors of both JCK Las Vegas and Couture. (The color forecasting company named tangerine its color of the year.)
Fine jeweler Le Vian, which is known for its on-trend collections, has lines featuring (trademarked) neon mandarin tangerine garnet and neon tangerine fire opal. At its well-attended trend fashion show, held this evening, the company also presented sure to be seen future fashions such as brown diamonds for bridal jewelry and a mix of blue and black stones.
Perhaps it's still the consequence of the "Kate effect" and that engagement ring, or perhaps it's just having its moment, but blue seems to be putting in an appearance in many vitrines – especially in the form of blue sapphire – though other blue stones are also popular.
Another trend that seems to be having its moment is wrapped gemstone jewelry. From simple wire wrapping to more luxurious and sophisticated shapes embracing large stones, the encasing trend – as seen at designers such as Angelique de Paris – is adding another, sparkly, facet to simple gemstone shapes.
Finally, one trend we were disappointed not to see more of at Baselworld that seems to be almost everywhere you turn in Las Vegas is gem slice jewelry – both faceted and un-faceted. The beautiful and colorful pieces offer a great statement item for a less than statement price, making them a consumer must-have in a time when people are still less than enthusiastic about parting with their cash.
JCK Las Vegas and Couture run until June 4.