IDI Re-elects Moti Ganz Chairman
October 04, 12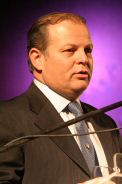 Moti Ganz
(IDEX Online News) – Moti Ganz has been unanimously re-elected as chairman of the Israel Diamond Institute Group of Companies (IDI). Ganz is also the president of the International Diamond Manufacturers Association (IDMA) and honorary president of Israel Diamond Manufacturers Association (IsDMA).
Ganz said his main task this term will be to create a comprehensive 10-year strategic plan for IDI, in order to position the Israeli diamond industry as a global leader in rough and polished diamonds.
Ganz has promoted the industry's marketing efforts into China and India. During his term IDI opened a representative office in Hong Kong and greatly expanded its trade show presence, organizing Israeli Diamond Pavilions in shows in India, Thailand and China.
He has also worked with the banks and the government to ensure favorable terms for the industry. He promoted enhanced cooperation among all factors in the diamond industry – the bourse, the manufacturers and the Diamond Controller. Ganz has also called for an open dialogue with the DTC and other rough producers in an effort to ensure a constant supply of rough to the industry.