Rockwell Diamonds Says Q1 Output Down 33% to 4,824 Carats
July 07, 13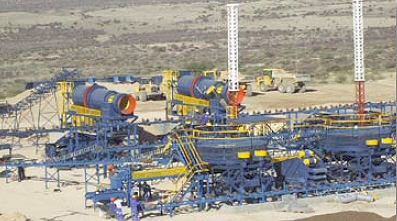 Rockwell Diamonds' Saxendrift operation.

(IDEX Online News)
– Rockwell Diamonds posted a 33-percent drop in first-quarter diamond production to 4,824 carats due mainly to the Tirisano mine being put on a care and maintenance status last December.
The level of output was also hit by the sale of its former Klipdam mine near Kimberley at the end of March. Rockwell accepted an unsolicited cash offer to sell Klipdam for $2.6 million based on the reasoning that the mine was considered non-core and the sale proceeds could be better applied to increase production from Rockwell's other properties.
However, its Saxendrift mine production was consistent, and included the recovery of nine diamonds weighing more than 20 carats, with four exceeding 50 carats.
"Rockwell's operational performance for the first quarter of fiscal 2014 reflects the transition of the company as we have narrowed our focus on growing the production profile, from specific footprints that deliver better efficiencies and greater economies of scale," said CEO and President James Campbell. "Our first such footprint is the Middle Orange River region. We have a track record of profitably operating mines in this region which traditionally yields high value gem quality diamonds.
"The operations at the Saxendrift Hill complex are gaining traction while the Niewejaarskraal operations are being commissioned within three months of presenting the project proposal to the board, a performance milestone for the company. We are positioned to have three producing mines in the Middle Orange River region by the end of the calendar year. These operations will have a total monthly processing capacity of 370,000m3 against our mid-term objective of 500,000m3. Meanwhile, we are pleased that our three royalty mining contracts at Tirisano delivered the anticipated production during the quarter and we look forward to a positive financial contribution as the two additional contracts come on stream with a total monthly production target of 150,000m3."