IDEX Online Research: Polished Diamond Prices +0.1% in October
November 04, 13
(IDEX Online News) – The IDEX Online Polished Diamond Index was nearly flat in October, increasing by 0.1 percent compared to September. One-carat rounds declined by 0.4 percent in October.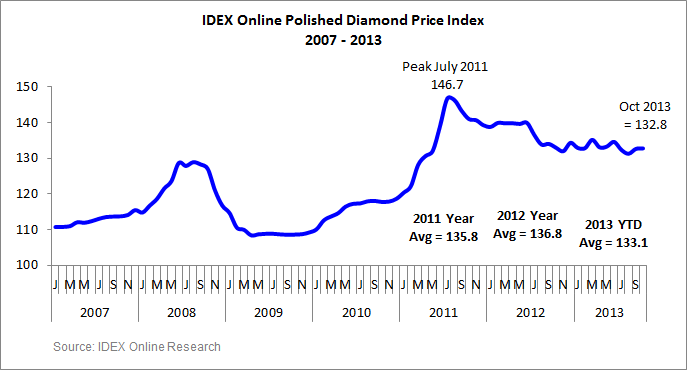 After a strong 1-percent month-over-month increase in September, which mainly reflected the confidence wholesalers felt after returning to work from their August vacations, overall polished diamond prices held steady in October. The IDEX Online Polished Diamond Index averaged 132.7 in October.
Polished diamond prices are now back to their fourth quarter of 2012 levels. Overall, average prices have declined by 0.1-percent since January 2013.
Is this near plateau in prices in 2013 evidence that polished diamonds have found their "right" price? Not necessarily. The "right" price is one that gives both sides of the transaction – retailers and jewelry makers on one side, and loose manufacturers on the other – a decent room for profit. It is not clear that is the case here. Current prices are a thin ledge requiring a perilous balance between the deep end of loss and the steep wall of rough diamond prices.
It is not that prices should increase to create a decent margin for sellers – because it will then be too high for consumers. Rather, it is rough diamond prices that need to pull back to make room for everyone down the value chain.
Recently, miners have eased rough diamond prices by a few percentage points, but this is too little, too late. Prices need to cool further, to allow wholesalers to offer discounts where needed, and for consumers to have diamonds as a viable alternative to other attractive holiday offerings.
The index of 1-carat rounds increased by 1.1 percent in October on a year-over-year basis, as did the price index of 1.5-carat rounds. The average price of 4-carat rounds, a very price active item, dropped 8.2 percent during the month.
On a month-over-month basis, round goods demonstrated a mixed performance in October. The important 1-carat goods declined by 0.4 percent, while 2-carat rounds eased up by 0.2 percent compared to September. The surprise performers of the month were the half carat goods, which increased by a very robust 1.2 percent.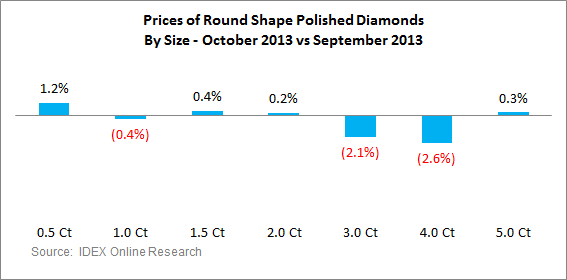 All three key size Princess-shape goods made a decent price gain of about 1 percent on a month-over-month basis. Year-over-year, the price fluctuations are more significant. The average price of 1-carat Princess Shape diamonds declined for a second month, down by 4.2 percent.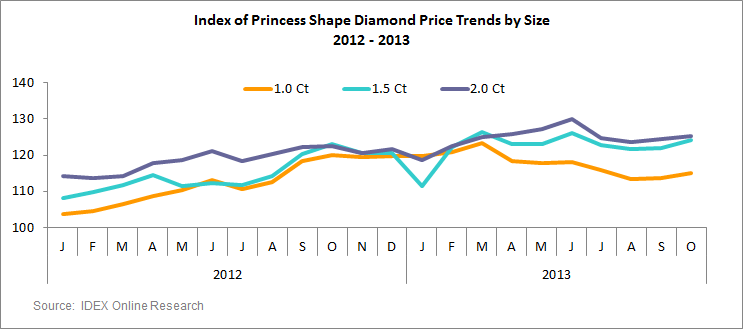 Outlook
We are continuing to hold to the cautious outlook we have expressed in the past months. The weakening of the Indian rupee against the U.S. dollar has seriously harmed the Indian diamond sector and it is still struggling to get used to the depreciating rupee.
The economic havoc in India is not expected to change dramatically until the general elections, and the depressed rupee is not expected to revive against the dollar in the near future.
In the U.S., retailers enjoyed a good run this year. A rising stock market in the U.S. is good news on the consumer front. The S&P 500 increased by more than 23 percent in the first 10 months of 2013, outpacing the 19-percent forecast by many economists for the full year.
Swelling stock market prices mean that many Americans will have deeper pockets for discretionary expenses in the November-December holiday season and diamond jewelry will benefit from this spending.
With global stock markets continuing to rise, an improving U.S. economy, and expectations that the slowing Chinese economy will not deteriorate further, we expect polished diamond prices to increase in the long-term, especially with the improving Japanese economy, which is still a leading diamond-consuming market.