World's Largest Faceted Sapphire Up For Sale
July 03, 14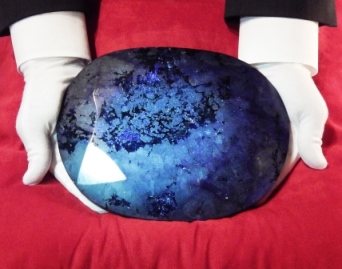 The Ophir Sapphire
(IDEX Online News) – A gem collection that holds nine Guinness World Record titles has gone up for sale. The Ophir Collection of rare gemstones includes the Ophir Sapphire, which, at 31,308 carats, holds the distinction of being the world's largest faceted sapphire.
The collection consists of some 40 gemstones, the majority of which, says the Ophir Collection LLC, are the largest known specimens of their kind in the world. All of the gemstones in the collection, bar one, have been certified by the GIA.
As well as common stones such as sapphire and Tanzanite, the collection includes rare gems such as musgravite, hibonite, grandidierite, serendibite, painite, and jadeite jade.
It also contains the only faceted neptunite examined by the GIA.
The collection also includes the Ophir Mystique, a gemstone that so far remains unidentified by the GIA and other gem identification authorities.