Going Wild at Vicenzaoro
January 27, 15
(IDEX Online News) – As the fair draws to a close in Vicenza, the new boutique Vicenzaoro show format seems to have been a success. Exhibitors and visitors were very complimentary about the new layout, which has made navigating the show floor much easier.
Foot traffic today (Tuesday) – the penultimate day of the show – may have been down on the solid numbers of previous days, but in the hall housing the loose diamond and gemstone companies, booths were if not doing business, then still meeting with clients and potential customers.
Manna Marcello was full of enthusiasm for the new format, saying that it was pretty much a complete turnaround from the last edition of the show, which had been very quiet. His enthusiasm was such that even though he admitted that sales may have been down this year, the overall experience had been very positive.
"The spirit of the people has been very good this year," he said. "We have seen more interest, including from some young people looking to get into buying and selling diamonds."
Undoubtedly, it helps when expectations are low, and Marcello confessed he had feared the worst. Nevertheless, his expectations were confounded and his hopes are high that business will increase at future editions of the show.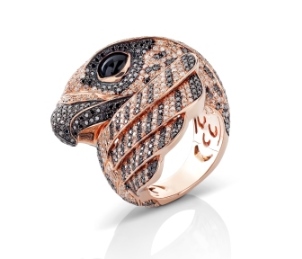 Falco by Roberto Coin
One salesman, who declined to be named, was more muted in his assessment. He said that while he had seen a good number of people, they had not really translated into buyers. People, he said, were simply making enquiries and were not prepared to put down money and make real orders.
"People are afraid of the prices," he said, citing the weakening euro as one of the main culprits. "They are waiting for better numbers."
Unless they are set in a magnificent piece of jewelry, diamonds tend to be very much an afterthought in Vicenza. Relatively few diamond companies make the journey to Italy and with the move to an increasingly upmarket show; it could be that this number is reduced even further in the future.
Moving away from diamonds, jewelry is the main star at this show and there was something to fit everyone's tastes – although maybe not pockets – on the show floor.
Although the 2015 Pantone color of the year is masala, purple and pink hues were very much still in evidence and look set to hold their own in the coming seasons, at least if the vitrines are anything to go by.
The reduction in the cost of gold means that designers were showing off plenty of the precious metal in all color options – white, red yellow and even black in large, solid pieces. This is in stark contrast to the delicate filigree work that was all the rage when the price of gold and platinum was climbing. Then it was more about what wasn't there (i.e. too much gold). Now it is about what is there.
That's not to say that filigree work was absent from the show; of course it wasn't. However, something of an eastern flavor seems to be taking over, with a number of companies explaining this type of jewelry as inspired by Moroccan lattice work or Middle Eastern floor tiles, or something similar.
One company taking clear inspiration from the Middle East region is Roberto Coin, which introduced ornate falcon rings to its collection this year.
Speaking of animal trends, snakes are still holding their own and seemed to be slithering through a great many windows. Butterflies were present with a vengeance (did they ever go away?) as was anything floral (ditto) and wild animals (think crocodiles) capturing the creative mind.
There was an abundance of show stopping necklaces and statement pendants, with plenty of on-trend chokers on display. There was also plenty of necklace layering going on, either long necklaces that can be wrapped a couple of times or necklaces worn in pairs or trios.
Earrings were both oversized and demure and elegant. Those with the cash could mix and match one of each to fit in with the off-balance inclination of the moment.
Still with earrings, one trend that seemed all but absent from the vitrines was the ear climber, which was really strong last year. Hopefully this is just a seasonal (or regional) blip and this ear accessory isn't past its prime already.
Other forms of jewelry that are still popular are multi-finger rings, rings that fit the whole finger and bracelets that hug the entire wrist. Look out for more of them in the future.
Finally, in terms of finishes, shiny metals were certainly the most popular, but matt and burnished effects were also making their mark and is a trend we would like to see more of coming seasons.