Fancy Color Diamond Prices Flat In Second Quarter, Says FCRF
August 06, 18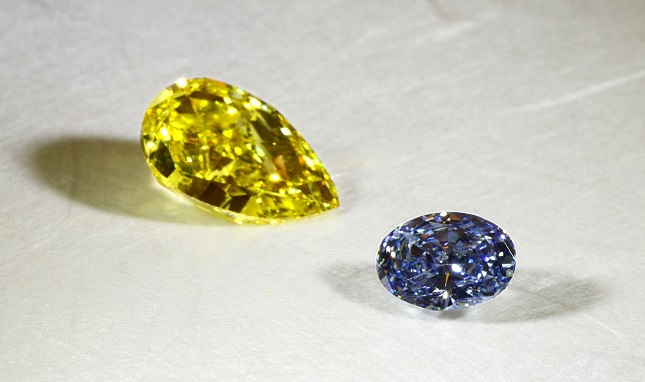 (IDEX Online) – Fancy color diamond prices showed no significant change in the second quarter of 2018, the Fancy Color Research Foundation (FCRF) reported today.
FCRF's Fancy Color Diamond Index indicated an overall rise of 0.1% in Q2 2018 for yellow, pink and blue fancy color diamonds, in all sizes and saturations. However, after having gradually decreased over the past 4 years, prices of yellow fancy color diamonds increased by 0.2% in Q2 2018, with fancy intense yellow outperforming all other saturation categories.
The prices of blue fancy color diamonds increased by 1.5% during Q2 2018, continuing the trend over the past 2 years. Prices of 2 carat fancy pink, 1 carat intense pink, and 3 carat vivid pink increased by 2% in this quarter, while the pink category as a whole decreased by 0.5%.
In Q2 2018, throughout all colors the prices of 1 – 3 carat stones increased, while prices of 3 carats and above slightly decreased.
On a year-to-year basis, when compared to Q2 2017, the Fancy Color Diamond Index increased by 0.5%, with blue prices up 5.7% and yellow and pink prices down by 0.7% and 0.6%, respectively. For a complete data analysis, please visit www.fcresearch.org
FCRF Advisory Board member Jim Pounds said: "The demand for the 1-3 carat weight category remains positive as they are relatively more affordable in their total amount, compared to 3 carats and above. However, larger exceptional yellows continue to command strong prices."
The Fancy Color Diamond Index is published by the non-profit Fancy Color Research Foundation (FCRF), tracking pricing data for yellow, pink, and blue fancy color diamonds in three key global trading centers – Hong Kong, New York, and Tel Aviv.