Four U.S. gem and jewelry industry leaders join Zillion's Jewelry Innovation Council
August 21, 19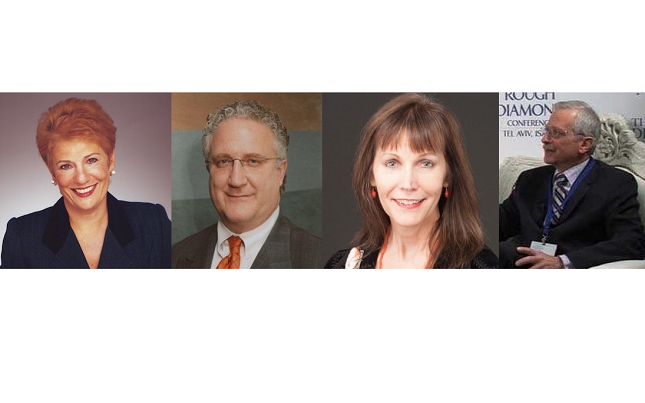 Four U.S. gem and jewelry industry leaders - Phyllis Bergman, Ronnie VanderLinden, Jeff Fischer and Patti Geolat - joined the newly formed Zillion Jewelry Innovation Council as its founding members.

These founding members have served on, and in many chaired, U.S. industry boards and organizations such as the Jewelers Board of Trade, American Gem Society, 24 Karat Club of NY, Women's Jewelers Assoc., U.S. Jewelry Council, as well as international umbrella organizations such as the International Diamond Manufacturers Association (IDMA) and the World Diamond Council.

Zillion is a U.S. jewelry insurance company that offers insurance at point of sale.

The purpose of Zillion's Jewelry Innovation Council is to bring industry experts together to discuss opportunities and overcome challenges to providing more transparency and value-added services to the jewelry industry. With its primary focus on better serving the end customer, the council seeks to help the industry create differentiation and better experiences for consumers.

"We are excited about the approach Zillion has taken to provide increased transparency to customers" said Ronnie VanderLinden, President of Diamond Manufacturers & Importers of America, who is also the incumbent IDMA president. "The industry is ready to expand consumer education and provide new solutions to an ever-changing customer".

"Council members are interested in promoting the industry they love and to create customer delight in partnership with jewelers and industry stakeholders," said Adam Black, Co-Founder and Managing Director of Zillion. "We are aligned and overjoyed to be in partnership with four industry experts who have dedicated their careers to bettering the jewelry industry." Phyllis Bergman, former CEO of Mercury Ring added, "We have always been at the forefront of change, and we look to continue our efforts to exceed customer expectations".

Go to

https://www.myzillion.com for more info.