Zillion Chosen as Digital Insurance Partner
October 01, 20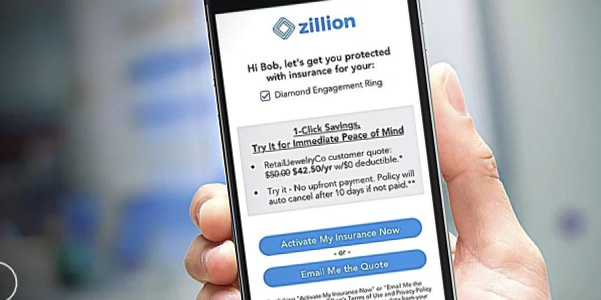 Continental Buying Group (CBG) & Preferred Jewelers International (PJI) selects Zillion as its preferred digital insurance partner

Partnership helps CBG & PJI Member jewelers offer 1-Click insurance savings to consumers in-store or via eCommerce
Bay Harbour Islands, FL, September 29, 2020 - Continental Buying Group (CGB) and Preferred Jewelers International (PJI), one of the nation's largest and most distinguished buying and retail jeweler member groups, has partnered with leading insurtech, Zillion, for the benefit of its members and their customers. Zillion will be the preferred digital personal jewelry insurer for in-store and eCommerce consumer purchases, and CGB & PJI members benefit from Zillion's one-of-a-kind technology platform.
Zillion has Reinvented Personal Jewelry Insurance through its highly extensible platform, enabling partner jewelers to wow customers with 1-click insurance protection and no upfront payment requirement. Consumers who shop at CBG and PJI member locations can enjoy immediate peace of mind with 1 click from their phone or eCommerce shopping cart, and without the hassle of form completion or waiting hours or days for approval. It's 1-Click goodness with the enhancement of a jeweler's service value after the sale.
"We are impressed by Zillion's insurance and technical acumen", said CBG & PJI, CEO, Andie Weinman, and President, Joe Murphy. "After scouring the insurance marketplace for a digital solution, Zillion is the real deal, and only company, to offer effortless and immediate 1-Click coverage for customers in-store and through eCommerce. It is the innovative approach to meeting consumer demands that the jewelry industry and our member retailers seek."
"CBG and PJI present the highest standards with distinguished jewelers", said Adam Black, Zillion's Managing Director. "We are proud to be associated with these venerable industry organizations and their member jewelers, and happy that we can help raise the bar through our innovative insurance experience."
For more information about the Continental Buying Group and Preferred Jewelers International, visit cbgi.org and PreferredJewelersInternational.com
About Zillion
Zillion (myzillion.com) is an insurtech company reinventing personal jewelry insurance by
providing 1-click insurance at point of sale, in seconds, right from a smartphone or eCommerce cart. In partnership with leading point of sale and eCommerce solutions, Zillion's technology platform helps jewelers increase their service value to customers by enabling immediate insurance protection. Customers can now "wear their jewelry with confidence" knowing they are protected. Zillion's customers are backed by insurance giant AXA XL, rated A+ Superior by A.M. Best.
Media Contact:
press@myzillion.com