WDC's Expanded Warranty to Cover Human Rights, Corruption, Money Laundering
December 22, 20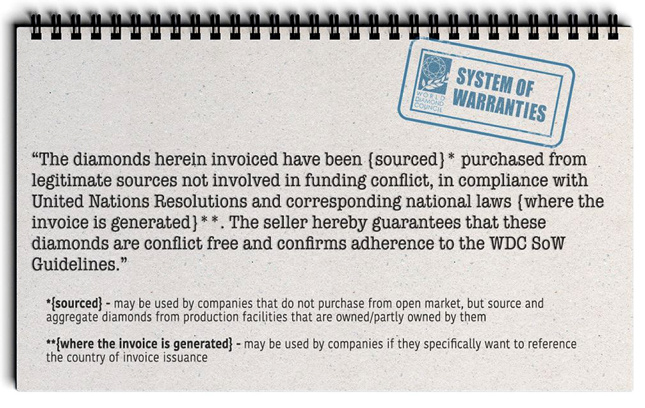 (IDEX Online) - The World Diamond Council says 200 companies are currently trying out its newly-updated rules on responsible sourcing.
It hopes to roll out its new System of Warranties (SoW) - pictured - early next year, requiring sellers at every point in the supply chain - polished as well as rough - to include a statement on B2B invoices and memos guaranteeing that the diamonds are Kimberley Process-compliant.
It has broadened the original SoW, introduced in 2002, to cover human and labor rights, anti-corruption and anti-money laundering.
Two hundred companies, representative of all sizes and sectors along the pipeline sizes are taking part in a soft launch.
The WDC says its new SoW goes further than the legally enforceable rules of the Kimberley Process. The WDC is self-regulatory, although it says its SoW has "effectively become a condition of doing business".
It is over three years since the WDC resolved at its annual meeting in Dubai in October 2017 to revise the SoW.
The process has been overseen by Peter Karakchiev, a WDC board member representing Alrosa.