A $2 Million Meal…With a Side Order of Bling
July 14, 16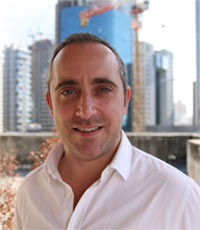 Forbes.com (and several other regular and industry news outlets) ran a story this week about a once-in-a-lifetime offer from World of Diamonds. The company has fashioned a platinum ring plated with rose gold, which features a 2.08-carat cushion-cut Fancy Vivid Blue Diamond, named "The Jane Seymour," after the British-born Bond girl. The experience that comes with purchasing the ring would be reminiscent of one of the fictitious spy's missions – taking in helicopter rides, fine wine and exceptional cuisine (presumably power-hungry, psychopathic and evil villains may be an optional extra).
The ring was made in honor of Seymour's appearance in The Vortex; a play in three acts that was produced by the British Theatre Playhouse of Singapore, and also sought to celebrate her achievements in the film industry. The actress wore the ring at a private dinner in Singapore earlier in the year, after which, it was showcased around different private events around the country – until now – when a respectable buyer is being sought.
World of Diamonds Group director Karan Tilani said that the company had never intended to sell it, and that the celebrity of the ring makes it priceless (well, nearly). However, the company would be willing to sell the ring, if a connoisseur – most likely Asian given the recent sales of super-expensive colored diamonds – and who will truly appreciate the piece, comes forward.
Blue diamonds of this quality are notorious at auctions for the per carat price they can command – with ones of this size fetching as much as $1 million per carat – which would make this ring worth around $2 million. And if we are always looking for the story behind a diamond, then despite the over-the-top nature of its presentation, the owner of "The Jane Seymour" will definitely have a tale to tell. But I wonder if all the additional fluff will detract from the ring itself.
In terms of pure numbers, the ring will be presented at the end of an 8-hour extravaganza (and bear in mind that this whole process will just be for two people), according to a report on Forbes.com.
A 45-minute helicopter ride over Singapore followed by a chauffeur-driven Rolls Royce drive and a private luxury cruise. The couple will then be whisked to Ce' La Vi, on the rooftop of the Marina Bay Sands Hotel, where 10,000 (yes, you read that correctly, 10,000) fresh roses will no doubt be artfully scattered around the diners. Eighteen courses, including New Zealand langoustine and air-flown Alaska wild salmon (eaten using diamond-studded chopsticks that will later be engraved with the diners' names) and bottles of vintage wine and champagnes later, the ring will be presented, along with cognac and a background of an extravagant firework display. A bargain, I'm sure we can all agree!
World of Diamonds will be keeping a very tight rein on who or more likely, who will not be permitted to purchase the ring/experience. Factors affecting the ring's sale include how influential the buyer is, their affinity for blue diamonds, and how he or she plans to flaunt/display "The Jane Seymour."
I feel quite torn about the outrageousness of this ring-buying experience. There is a side of me that thinks it's all just too much, an expression of extravagance that maybe does not befit more straitened and austere times. At a time when many, but by no means all, High Net Worth Individuals (HNWIs) are making a deliberate attempt to limit their conspicuous consumption, this is its antithesis.
The other part of me, however, thinks that yes, it is a fabulous ring and it was made to honor a timeless award-winning actress (an Emmy, two Golden Globes and a star on the Hollywood Walk of Fame are not to be sniffed at). That same part of me is impressed that World of Diamonds would possibly think to go to such playful extremes to present the ring (and maybe that says as much about the limits of my own imagination and the kind of world I inhabit). Is the excess excessive, or is it so kitschy that it manages to keep the right side of tasteful? And everyone is talking and writing about it, so the adage about no publicity being bad publicity would seem to ring true.